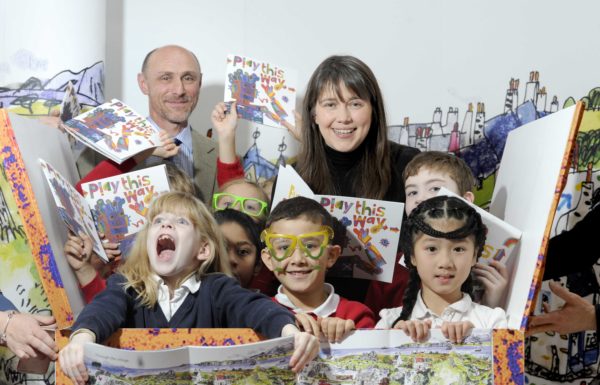 Scottish Children's Minister launches new book to promote play
Children's Minister, Aileen Campbell MSP, launched the book 'Play this Way' earlier today at The Scottish Storytelling Centre, in order to "bring the Scottish Government's Play Strategy to life."
Visiting pupils from Royal Mile Primary School were treated to an interactive storytelling with the Minister, facilitated by the SSC's own Andy Canon.
Speaking to the children this morning, Ms Campbell said: "We need to make sure that every child in Scotland knows it's their job to play – that's The Scottish Government's job." The Minister told the children she would "pass on the message to our MSPs that you want Scotland to be a more playful place."
The Play Strategy was first announced in March 2013. Deborah Gallagher, Play Policy Lead said: "We had a vision to reach out to parents and children, not just practitioners and policy holders, which puts the infrastructure in place. Working with Jane Strachan and Tim Archbold provided us a network that allowed us to develop the book with children."
Children from Jeely Piece Club, Eccles Leitholm Primary School and Coldstream Primary School all worked with Tim Archibald on his rough drawings to create the book, which will be delivered to all 8 year-olds in the country via schools and libraries by March 2016.
Education packs will accompany the books going to all Primary 4/5 teachers in Scotland, "to encourage a fun and interactive approach" to reading the book.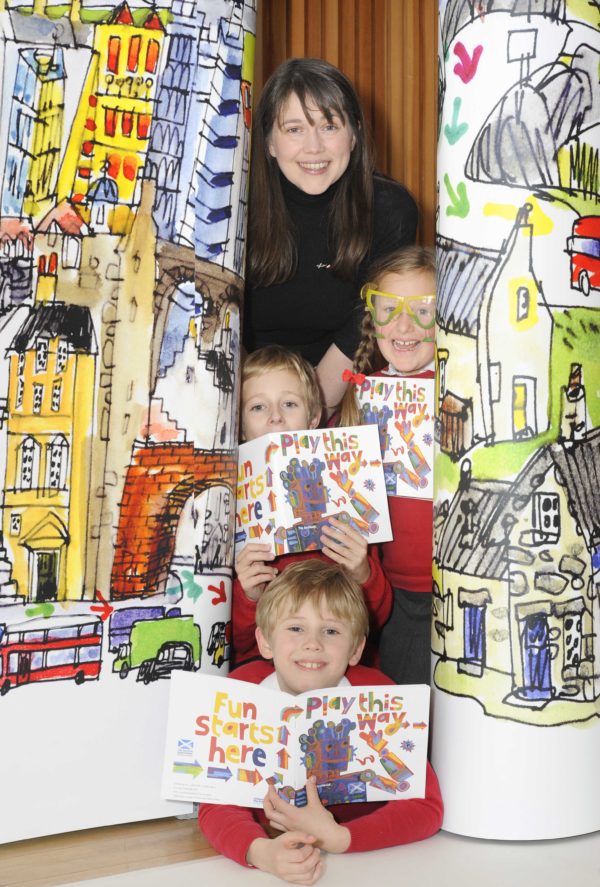 Ms Campbell said at the event: "Play Strategy was launched two years ago in order to provide enriching and enjoyable experiences for children every day. They have a right to play. This is a lovely book which has been co-produced by children and we hope will be enjoyed by children across Scotland.
"We want to spread a wider message to both children and their parents that play is an important and fun part of learning and developing literacy. Today has been a phenomenal kick-start. The children here today have shown so much enthusiasm and their imaginations have run wild – that's just priceless in terms of childhood development."
Tim Archbold wrote and illustrated the book but is already known for his 'Bagpipes, Beasties and Bogles' picture book. Jane Strachan, creator of the identity for the Play Strategy Group who carry out the Play Strategy objectives, was also involved in the project.
On moving forward, Deborah Gallagher said, "We will be developing a website for Play Strategy on the Scottish Government's website in collaboration with Tim who will write a story for it. We will also have footage from today which will increase accessibility. The book is a platform to highlight the importance of play. It allows us to be strategic in making fundamental changes whilst engaging parents, carers and children in a way that strengthens the bond between them."
The book will be distributed in the New Year with visits to schools across Scotland and will also be published in Gaelic. The artwork will be on display in The Scottish Storytelling Centre until the end of November.
Photography for The Scottish Government from: Colin Hattersley Photography – colinhattersley@btinternet.com – www.colinhattersley.com – 07974 957 388