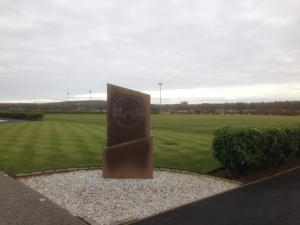 Jamie Insall joined Hibs in the summer from non league football in England and is now slowly getting to grips with the training regime he has to undertake to make sure he is fit enough to play in matches. From training on a Tuesday night, Insall now trains five days per week but he believes that he is still five or six weeks away from full fitness.
The 23 year-old earned his move by impressing Head Coach Alan Stubbs during a one month trial during which he scored in  a pre-season friendly for the Development Squad against Brentford's under-21s.
So far he has played four more games for the Development Squad scoring against Aberdeen and was listed amongst the substitutes for a first team game.
Getting to full fitness will see him having to compete with fellow strikers Jason Cummings, Dominique Malonga, James Keatings, Farid El Alagui and Henri Anier for a first team place
Speaking to the official Hibernian website he said: "It's a different step up to what I am used to, I feel that I am getting fitter with each game and I'm getting used to it now. I've gone from non-league to Hibs and I'm getting used to the pace and I feel that I am developing my game.
"Going from training once a week and one game, to training five days a week, my body has only just began coping with that now. I was used to training on a Tuesday night and playing on a Saturday, but now I'm in about five times a week and it's taken its toll on me.
"I'm not where I want to be, I still feel I've got another five or six weeks where I will be hitting the gym and losing a bit more timber but I'm getting there slowly. I feel it.
"Coming to the club I was a typical number nine. I was playing on the last man, but I've developed my game where I've had to come short for the ball and I've played in the Development League games as a number 10 which I've never done before.
"My creative side has to be more mature and my legs have to be different as well as I was used to running full pelt for around 25 minutes, but now it's for the full 90. Slowly but surely I'm getting there.
"It's a new challenge for me, but I'm taking it with both hands, I still wake up each day and count my blessings knowing where I am.
"But I know that the hard work has nowhere near started and it's nowhere near finished, but I'll still keep plugging away."