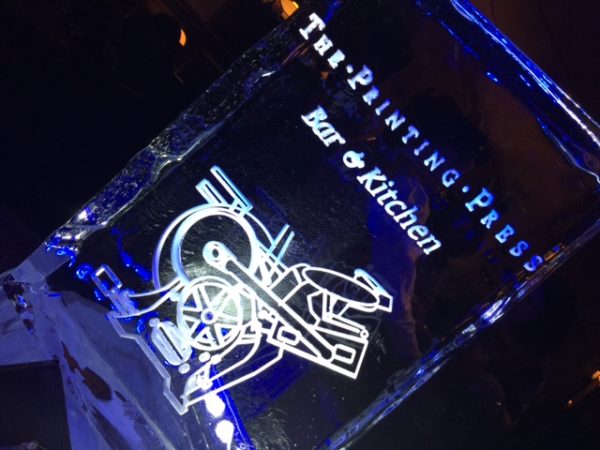 Following the VIP launch last night, The Printing Press Bar & Kitchen officially opens its doors in Edinburgh today 22 October 2015, and has already welcomed some of Scotland's literary greats as its first guests.
Last night respected restaurateur Des McDonald was joined by head chef Colin Fleming to serve some of Scotland's literary elite, including leading writers Val McDermid, Christopher Brookmyre and Alexander McCall-Smith.
The Edinburgh Reporter was invited along too and from the Blackwoods Bramble to the Blueshell Mussels with foam everything was exquisitely presented.
There was a cheese barrow and a seafood barrow and there was lots of food to enjoy. The proof of the pudding will be that the quality of the food is maintained when the restaurant opens its doors today, but Des McDonald seems sure that it will soon become the place to be.
Drinks were served in treacle and syrup tins and canapés offered on top of the glass in framed paintings. We loved the little salted caramel and chocolate shot served in a coffee cup and the iced lemon and blackberry was served with a little prosecco making it foam up dramatically.
We astutely avoided the Bygone Photo Booth Company, but we enjoyed the sounds produced by DJ Rebecca Vasmant accompanied by Chris Greive of the Scottish National Jazz Orchestra. They gave the floor to DJ set Prides a little later in the proceedings.
The restaurant, housed in a part of the George Hotel which has been a restaurant before, pays homage to the capital's rich literary heritage: number 25 was home in the 1780s to the acclaimed novelist Susan Ferrier and in late 1840 records show one John Oliphant living there – Oliphant's and Ferrier's descendants founded Oliphant, Anderson and Ferrier, one of Scotland's most prestigious publishing houses, best known for the series of Famous Scots books.
http://www.printingpressedinburgh.co.uk