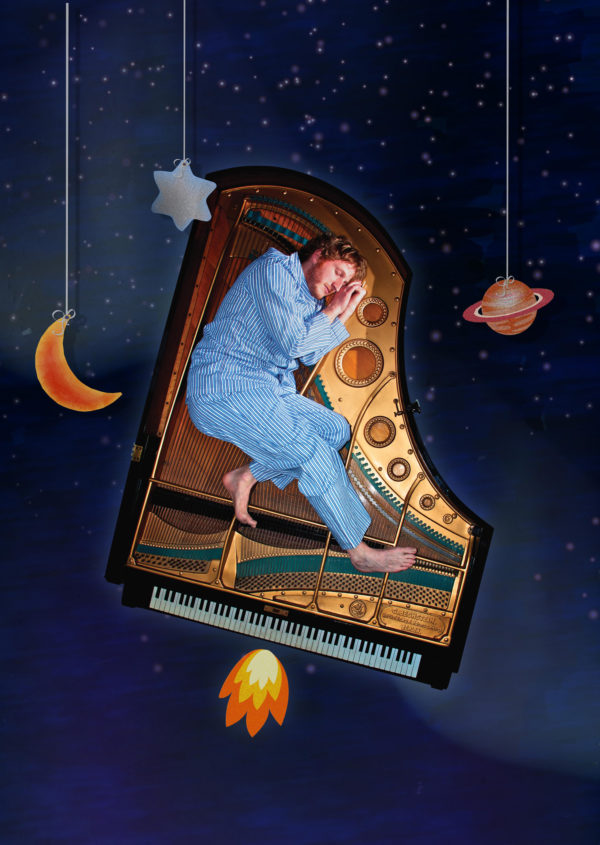 Edinburgh based virtuoso pianist, wit and raconteur Will Pickvance has adapted his award winning, smash hit show Anatomy of the Piano for children – but it still includes plenty in for adults to enjoy.
The grown-ups version sold out its Edinburgh runs in both 2013 and 2014 and has toured to Australia twice to great acclaim.
In 'Anatomy of the Piano (for Beginners)', Will goes on a journey to find out where pianos come from which he hopes will inspire yooung audiences to take up music. Beginning when he didn't get the Christmas present he wanted (he hoped for a space rocket but got a piano instead) leading to the joy he found in exploring the instrument. Along the way he meets Bach in a cave and Fats Waller on the moon – it's the perfect antidote to boring piano lessons that has young audiences entranced and enthralled and their parents totally engaged too.
Will's gently humorous, amiable delivery and expert but never indulgent musicianship are enhanced by delightfully eccentric hand-drawn projections to create a quirkily subtle show of virtuosity, dissection and charming fun.
Will has a passion for inspiring people of all ages and abilities to pick up an instrument and make music. The show tells how he was inspired by music and he hopes that the show can inspire others of all ages to start playing or rekindle their curiosity. Anatomy of the Piano (for Beginners) will delight anyone who has ever enjoyed the sound of the instrument in whatever genre of music – and charm any who haven't into compliance!
Winner of WINDOW Emerging Talent Award at Brighton Fringe 2014, Will took the show to Australia last year to great critical and audience acclaim, returning to reinforce his reputation earlier this year at the Perth Fringe where it was nominated for 'Best Children's show. He has also toured to USA, Italy and Kuala Lumpur.
In a varied career as a professional musician Will Pickvance has been musical director for pantomimes starring various soap stars, been resident pianist on a cruise ship and found himself in Leo Sayer's backing band. He has jammed with The Eagles and directed the music for Ashley Judd's wedding and Robbie Williams' surprise birthday party (at which he accompanied Williams in an impromptu rendition of the million selling Angels).
The concerts are at Summerhall and ticket details are here.
Submitted by Martin Mouth