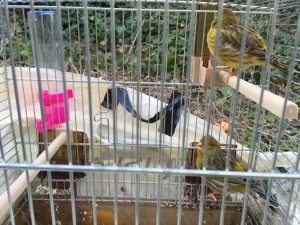 The Scottish SPCA is appealing for information after a cage containing three pet canaries, one of which was dead, was dumped in Edinburgh.
Scotland's animal welfare charity was alerted on Saturday (21 March) when a member of the public made the discovery at a cycle path near Craigleith Retail Park.
The two surviving birds are now in the care of the charity's Edinburgh and Lothians Animal Rescue and Rehoming Centre in Balerno.
Animal rescue officer Fiona Thorburn said, "The cage was left inside a plastic carrier bag.
"Unfortunately one of the canaries was lying dead at the bottom of the cage. The bird was underweight but at this stage we can't say if it passed away before or after it was abandoned.
"We would urge anyone who knows who may have owned these canaries to contact us.
"The two surviving birds have settled in well at our centre and are chirping away, which is a good sign. We'll look after them until we can find them a loving new home."
Abandoning and causing an animal unnecessary suffering animal is an offence under the Animal Health and Welfare (Scotland) Act 2006 and anyone found guilty of doing so can expect to be banned from keeping animals for a fixed period or life.
Anyone with information is being urged to contact the Scottish SPCA Animal Helpline on 03000 999 999.
Photo by Scottish SPCA