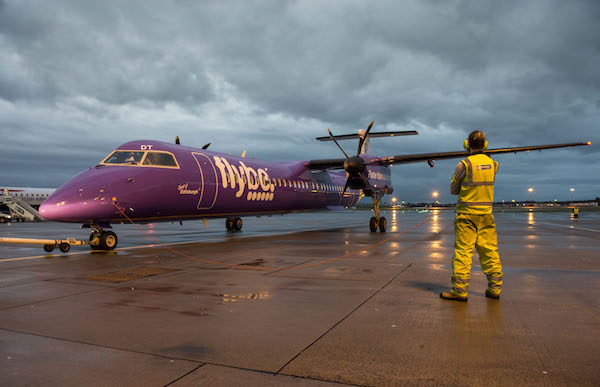 FLYBE put their 2015 flights on sale now
Flybe, Europe's largest regional airline, has today put on sale its 2015 Summer schedule that features 30 routes to and from Scotland with a choice of up to 964 flights a week and that includes a brand new route between Glasgow and Bournemouth.
The start of summer flying on 29th March 2015 will also mark the re-opening of Flybe's Aberdeen base as announced by Flybe last month.
It will be the first summer for the airline's three Scottish routes to and from London City airport as well as the Flybe Shuttle service that operates between Aberdeen and Jersey, with brief stops at Leeds Bradford and Southampton.
Seats are on sale now for booking at www.flybe.com with one way fares from £27.99 including taxes and charges and currently available for travel between March 29th and September 3rd, 2015.
Return of peak summer services including Edinburgh to Newquay and Bergerac; and from Aberdeen, Glasgow, Inverness and Edinburgh to Jersey
Full details of schedule at www.flybe.com
One way fares from £27.99 including taxes and charges
Paul Simmons, Flybe's Chief Commercial Officer, says: "It's going to be a busy summer! Over the last twelve months we have continued to grow and develop the airline to provide the most cost-effective, efficient and flexible service for our passengers. Our 2015 Summer schedule from Scotland  boosts further the large selection of connecting flights that are now available not only through our codeshare partners but also with those offered by our franchise partner, Loganair.
"We look forward to the re-opening of our Aberdeen base and are pleased that, through our many codeshare partners, we are able to offer our Scottish customers even more travel choice extending further our reach across Europe and the rest of the world."