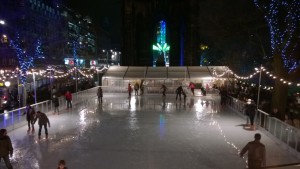 People who know me will all-too readily tell you I'm a bah-humbug kind of guy. My dislike of Christmas is well known although, in fairness, it's not that I dislike Christmas – I just prefer it at Christmas time and not celebrated before the clocks go back…
So when I received an invite to the launch of The Drambuie Hot Apple Toddy Bar at the foot of the newly erected big wheel on Princes Street, I was a tad apprehensive. I knew that, even with four weeks still to go, there would be a huge throng of people there enjoying the bright attractions and market stalls.
However, I have to say I thoroughly enjoyed my visit to the bar. Looking on to the skate rink, which is proving as popular as ever, it was a veritable hive of activity and the ideal place to escape the masses jostling each other through the never-ending array of market stalls.
The young bar staff were only too willing to help and the variations of Drambuie flavoured drinks were all too tempting for me. I tried the much-vaunted Drambuie Hot Apple Toddy and it was just the thing for an ageing hack fast succumbing to a sore throat on a chilly winter's evening. And the Drambuie with Ginger Ale was also delicious.
I still refuse to join the masses and celebrate Christmas in November. But if you're being dragged to Christmas shopping this weekend – or any day from now until 4 January – you would do well to pop into The Drambuie Hot Apple Toddy Bar for a delicious tipple or four. Although I would advise to try the ice skating before sampling the Drambuie…