Crabbie Whisky launch two special limited editions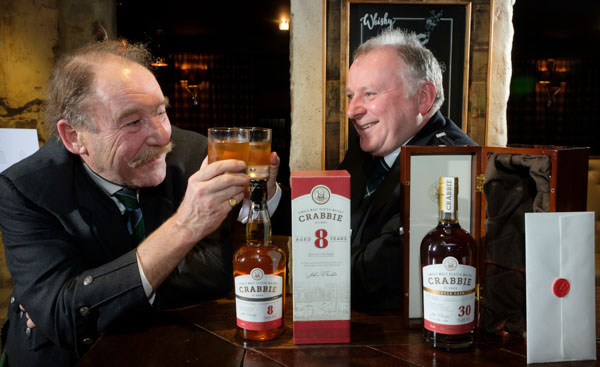 John Crabbie Whisky will return to the Scotch whisky market later this month with the launch of two special limited releases: Crabbie 8 Year Old and Crabbie 30 Year Old.
The two single malt whiskies are the first to bear the Crabbie family name since the 1970s and celebrate the re-establishment of one of the most famous brand names in Scotch whisky.
The limited release single malts represent the first steps towards the return of continuous single malt distilling in Edinburgh after almost 100 years' absence.
Established in 1801 in the port of Leith, near Edinburgh, John Crabbie soon gained a reputation as a pioneer. Crabbie travelled the country to sourced the very best single malts, but also experimented with blending whisky from different distilleries to create complex flavour profiles.
His imaginative flair for mixing also created one of the most famous cocktails in the world. Records show that John Crabbie first sold his ginger wine and Crabbie Scotch whisky to 'MacDonald of Glenalbyn', and it is from this partnership that the iconic 'Whisky Mac' (originally known as a Whisky MacDonald) was created.
His visionary approach paved the way for the creation of many popular blended whisky brands. However, his obsession for creating and seeking out the highest quality Scotch whiskies was his passion, and this is the driving force behind the new John Crabbie Whisky.
David Brown, the newly-appointed managing director of John Crabbie & Co, said: "From the middle of the 19th century, John Crabbie procured stocks of the best single malt whisky from Scotland's finest distilleries and, working with the likes of Andrew Usher, became known as a true whisky pioneer.
"With the launch of the new John Crabbie Whisky collection we are honouring his legacy and ensuring his impact on single malts will be felt, and tasted, for years to come."
The Crabbie 30 Year Old is a Speyside single malt, and Crabbie 8 Year Old is a Highland single malt.
David Brown explained the reasoning behind the first two releases: "For many years John Crabbie led the industry with his 8 year old blend. We thought it fitting that the first release of this new era should be a limited edition 8 year old, brought up to date as a single malt."
Whisky expert Charles MacLean described the Crabbie 8 Year Old single malt: "The nose initially presents breakfast cereals and evolves into fruit loaf with hints of dried apple. It has a smooth texture and sweet taste, with a medium-length finish. Adding water brings a slight waxiness and fruitiness to the aroma, and a spice to the finish."
"The exceptionally rare Crabbie 30 Year Old is a fabulous Speyside Single Malt, and is the colour of old polished mahogany. It gives the overall impression of moist Christmas cake, cooking spice, almonds and crystallised angelica root, with a smooth, mouth-filling texture. Quite simply, it's sublime."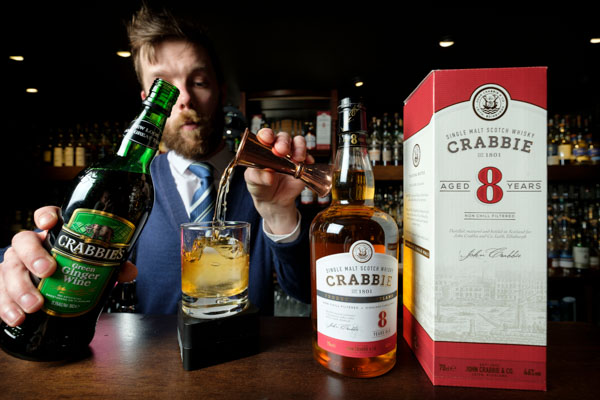 The two single malts were unveiled to industry experts and whisky lovers at a Burns Supper in Edinburgh, John Crabbie's native city, this week.
Other John Crabbie expressions will be announced soon. Crabbie 8 Year Old (ABV 46%), a single cask release of 336 bottles, will be available from 1st February (RRP £30). Crabbie 30 Year Old (48.6%) will be available at selected luxury retailers (RRP £500).
Images courtesy of McDaid PR