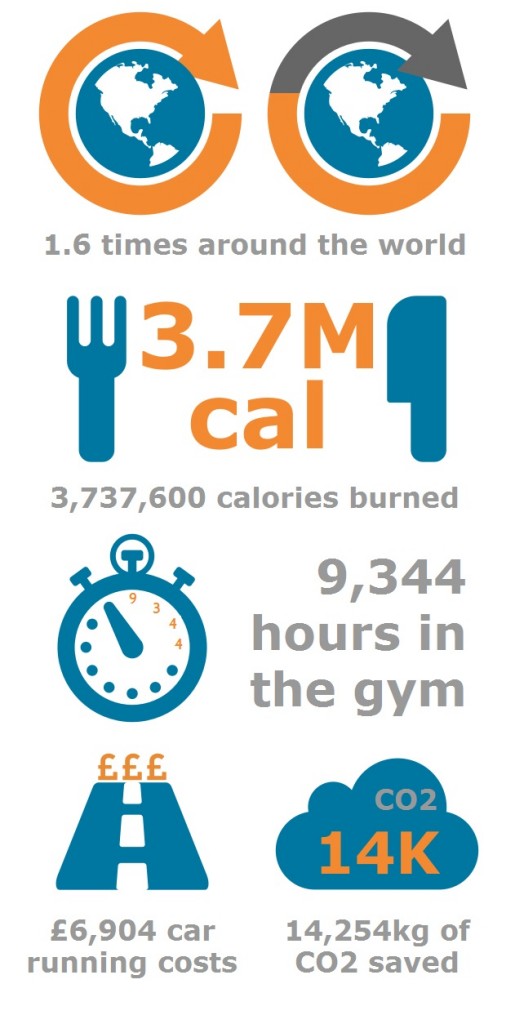 Environmental charity employee, Mike Batley (54) has pedalled the equivalent of 1.6 times around the world in his daily 33 mile round trip cycle to work.
The West Lothian man has travelled by bicycle from his home town in Pumpherston to his workplace at the Central Scotland Green Network Trust (CSGNT) in Shotts, North Lanarkshire for over 15 years.
Mike started using his trusty two wheels intermittently in 1998 whilst working at CSGNT, formerly operating as Central Scotland Forest Trust. He has since racked up over 40,000 miles on his bike over the years, opting for the healthy commuting alternative to public transport or car, an average of three times per week.
Active forms of travel such as walking and cycling help to improve quality of life and quality of place, bringing multiple benefits to people and the environment.
Cycling to work helps to reduce traffic congestion and improve air quality as well as offering economic benefit. Mike has avoided contributing 14,245kg of harmful CO² emissions to the environment and has saved himself nearly £7,000 on car running costs.
By choosing to cycle to work, people can also benefit from increased daily physical activity, leading to improved health and well-being and helping to tackle the obesity epidemic facing Scotland today. Mike has burnt around 3.7million calories, equating to 9,344 hours in the gym, by pedalling his way to work each day.
Speaking of his lengthy commute, Mike said: "Cycling to work is one of the simplest ways people can keep fit and healthy. My daily cycle gives me a great work-out and really kick-starts my day both physically and mentally. It's also an environmentally friendly mode of transport and has saved me a lot of money in petrol over the years as well."
Simon Rennie, Chief Executive of CSGNT, said: "Mike is an excellent example of why choosing a healthy form of travel such as cycling can reap benefits physically, economically and environmentally, and it's great to see how the statistics rack up over the years.
"We hope to see more people in central Scotland taking this healthier mode of transport in the future and are investing resources on the ground to look after existing paths and create new routes in order to encourage active travel across the region."
CSGNT aims to improve the social, physical, cultural and environmental health and well-being of central Scotland, as well as assisting the area to meet the challenge of climate change.
For further information about the Central Scotland Green Network Trust, please visit http://www.csgnt.org.uk/
Submitted by Lesley Ogilvy