To raise money for their PINKTOBER campaign, there will be auctions for two Hard Rock Cafe T- Shirts signed by Billy Connolly, who was kind enough to sign them whilst performing his High Horse Tour Scotland 2014 in Edinburgh this month and they are giving you the chance to own them!
During October, you will have the opportunity to bid through a silent auction. They each have reserve of £50.00 and in order to bid, you must email your highest bid to Lesley_ross@hardrock.com along with your contact details so that they can contact you if you win.
The Ladies Pinktober Tee is a Limited Edition design for 2014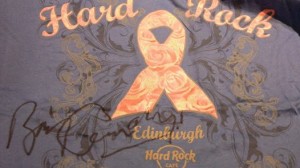 and the Other is our Classic White Men's Tee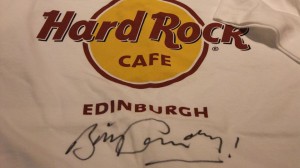 Hard Rock Café Edinburgh are aiming to raise as much money as possible for their Pinktober Charity The Caron Keating Foundation. All for a great cause. The bid is open until 10am on Friday 31st October 2014 and the following Monday the winner will be notified by return email before 12pm on that day.
If you have any questions please call our sales team on 0131 260 3006 Monday – Friday between 10am and 5pm and ask for either Lesley Or Michelle
Happy bidding! #Pinktober #Charity