NHS Lothian waiting times – Edinburgh Schools Mountain Bike Competition – Film in the City – Edinburgh Private Tenants Action Group – You can drive a canal boat!
Sarah Boyack MSP has been asking questions of the Health Secretary Alex Neil at Holyrood on the matter of waiting times in NHS Lothian which she described as 'challenging'.
Mr Neil replied:- "I am aware that the board has been experiencing capacity difficulties delivering the waiting time guarantee and standards. Indeed, that is why it has already indicated that it will be investing more than £8 million in the current year to increase capacity by recruiting around 80 full-time equivalent staff, including consultants, nurses and other clinical support staff in specialties such as ear, nose and throat, ophthalmology and orthopaedics.
"That additional capacity will come on stream soon and should enable a significant reduction in waiting times over the coming months, with the 12-weeks legal treatment time guarantee being delivered by the end of this year and the out-patient waiting times standard by March 2015. My officials will continue to work closely with the board to support the delivery of waiting times."
Ms Boyack continued:-"NHS Lothian struggles to meet these targets; it is one of the worst performers with regard to the 18-week and 12-week targets, and every month it is spending £1.5 million on private procedures. Does the cabinet secretary accept that, despite the best efforts of the staff, there is a serious capacity problem and that the sheer demand of patients needing treatment must be addressed? Given that shifting resources into this area will inevitably impact on other areas in NHS Lothian, is the cabinet secretary confident that NHS Lothian has the resources to increase capacity and to meet the increasing demand that it is currently challenged in meeting?"
But the Health Secretary was sure that NHS Lothian will manage to address the matter. He concluded:-"First, I am absolutely confident that the health board has the money to deal with this issue without adversely affecting other areas. It has had a real-terms increase in its budget for this year, and it will get a real increase in next year's budget.
"Secondly, the fundamental problem in NHS Lothian is that the capacity planning that was done 10, 12 or 15 years ago grossly underestimated the population growth in Edinburgh by up to 20 per cent. As a result, NHS Lothian has had to invest in additional capacity in the Royal Victoria hospital and elsewhere to cope with the demand for day-to-day services.
"I am confident that NHS Lothian has a workable plan that will be delivered. As I have always made clear, I expect the board to deliver the Treatment Time Guarantee (TTG) for in-patients by the end of this year, and the TTG for out-patients by March next year."
***
On Sunday the Edinburgh Schools Mountain Bike Competition will be run for the very first time.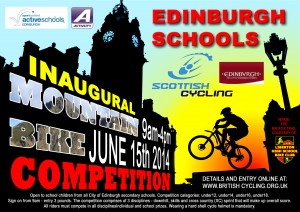 This is the first ever inter-schools mountain bike race to be held in Edinburgh and will take place on the newly built trails at Liberton High School. Riders will compete in age groups from under 12's to under 18's. Individual and school prizes available.
Open to school children from all City of Edinburgh secondary schools. Competition categories: under 12, under 14, under 16, and under 18. The competition comprises of 3 disciplines – downhill, skills and cross country (XC) sprint that will make up the overall score. All riders must compete in all disciplines, there will be individual and school prizes.
Starts at 9.00am. Sign in on the day! More details here.
***
Back with a bang, the magnificent setting of St Andrew Square will once again become a giant outdoor movie arena for the full weekend (13-15 June). Enjoy classic flicks and recent hits on a huge outdoor screen at the East End of George Street. A packed weekend of movie magic featuring iconic classics such as Jaws, Ferris Bueller's Day Off, Rocky, Juno, Whiskey Galore and Metropolis; younger viewers have plenty to choose from including Happy Feet, ET, How to Train Your Dragon and Secret of Kells.
Visitors are invited to pack a picnic, grab a rug, sit back, relax and enjoy this special cinematic experience in Scotland's capital.
Date: Friday 13 June, 5pm-11pm; Saturday 14 and Sunday 15 June, 10:30am-11pm
Venue: St Andrew Square
Cost: Free
Additional information:  Families welcome. Space for 1,000, but no seating provided. Please note, some of the films later in the day may not be suitable for younger audiences.
Tonight at St Andrew Square 5pm – 11pm
5.30pm – 7pm                   Gregory's Girl (91mins)
7.15pm – 8.50pm             Little Shop of Horrors (94mins)
9pm – 11pm                       Jaws (119mins)
***
Edinburgh Private Tenants Action Group (EPTAG) have a plan. Their plan will culminate in a discussion day on 22 July 2014. Before then however if you want action on any matter you encounter as a tenant then you can meet up with like-minded people and join in with their door-knocking and other actions to improve the lot of private tenants across Edinburgh.
***
Do you fancy having a go at driving a canal boat?
Re-Union are offering 1:1 hands on familiarisation training to enable those who are new to canal boating, or would like to brush up on their skills, an opportunity to have a go with the support of a qualified skipper. They are offering a two hour session for £75.
If you are interested or would like to buy a Re-Union voucher as a present for a friend or family member, please contact Re-Union on 0131 261 8529 or email info@re-union.org.uk