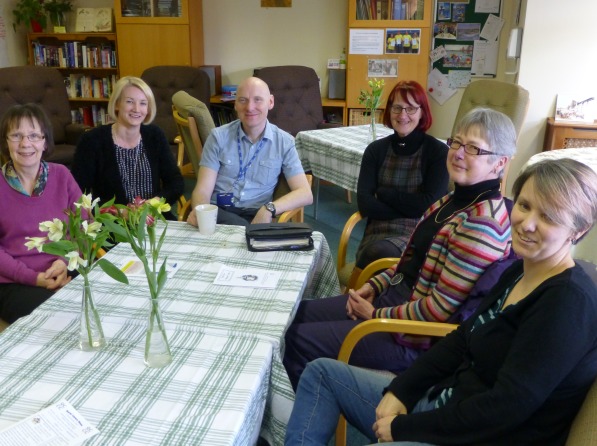 Queensferry Care has officially opened a new service "The Memory Café", at The Haven 25b Burgess Road, its base in South Queensferry. Developed through a partnership with NHS Lothian, Alzheimer's Scotland and Queensferry Care, the Café will open from 13:00hr to 15:00hr on the third Thursday of each month and will provide support, information and advice to people who have a diagnosis of dementia and to carers.
Sharon Hampson-Bahia, manager at Queensferry Care said: "We were delighted with the response at the opening of the café and it was clear that people attending valued the opportunity to meet and chat with the professional team in a relaxed setting while enjoying a coffee and some delicious cakes.
"Queensferry Care have been providing a range of services to older people and carers for over twenty years across rural west Edinburgh and it is has been exciting for us to be able to extend our work in partnership with Alzheimer's Scotland and NHS Lothian in such an innovative way."
Teresa Straczynska, Dementia Advisor at Alzheimer's Scotland, said: "Alzheimer's Scotland is delighted to have helped in the setting up of the Memory Café.  It will welcome people with dementia and their carers where they can get advice from professionals and peer support over a cup of tea and a blether. The Café represents another step forward in the development of a network of community based support services"
Dr Robert Cafferty, NHS Lothian community Mental Health Consultant who worked closely with Queensferry Care and Alzheimer's Scotland to establish the Memory Café, said "This new development represents an important milestone in the development of collaborative community based services and will enable us to extend a range of consultation, support and advice services right into the heart of the Queensferry community."
Photo: Anne Murray, Carer; Sharon Hampson-Bahia, Queensferry Care Manager; Dr. Robert Clafferty, Consultant Psychiatrist; Teresa Straczynska, Dementia Advisor; Christine McDonald, Carer; Kate Joester, Alzheimer Scotland Link Worker.