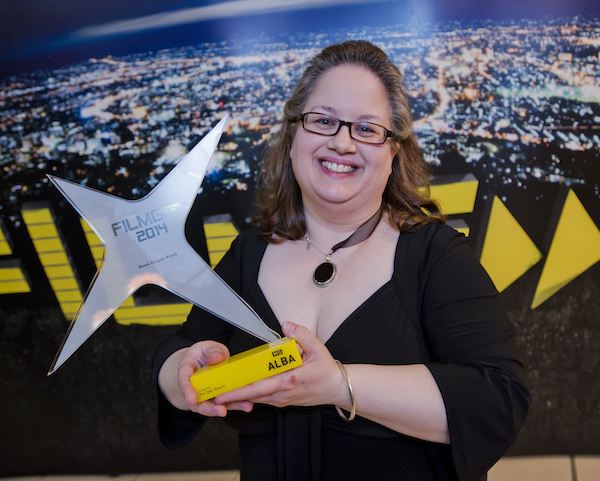 BUDDING FILM-MAKERS FROM EDINBURGH SCOOP A TOP AWARD AT NATIONAL GAELIC FILM CEREMONY
STARS OF THE BIG SCREEN PRESENT AWARDS INCLUDING GREG HEMPHILL AND GARY LEWIS
(Photo shows Alison Lang who helped the Edinburgh College of Art students with their Gaelic film picked up the award on their behalf)
Budding film-makers from Edinburgh have won a top award at FilmG, the National Gaelic Film Awards, which is in its sixth year running and was held at The Old Fruitmarket, Glasgow on Friday evening.
Stars of the big screen turned out to present a number of awards at MG ALBA's prestigious Gaelic screen talent ceremony which was hosted by Fiona MacKenzie, face of BBC ALBA, and Niall Iain Macdonald, TV & radio presenter.
Guest presenters at the event included renowned Scottish actor and comedian Greg Hemphill best known as Victor in the much loved Still Game sitcom and Glasgow born actor Gary Lewis who has starred on the big screen in films such as Billy Elliot and Gangs of New York as well as TV programmes including Silent Witness and the forthcoming HBO series, Outlander.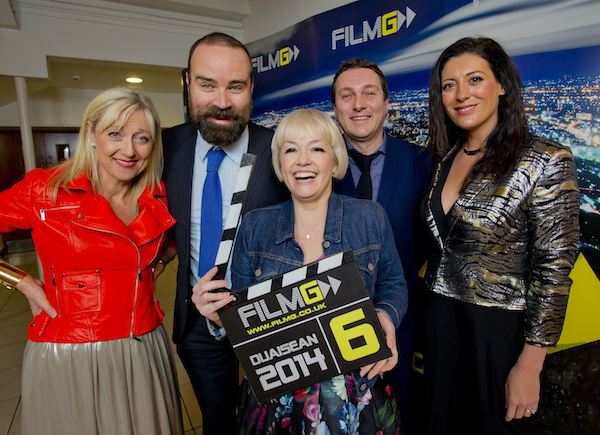 This year's competition theme was 'Rùn' (Love/Secret/Intention) which inspired an array of ideas for filmmakers in both the 12-17 age-group and the adult category, with a total of 76 films being submitted.
The FilmG Theme Award in the adult category went to Alberto londanov, Laura Shand and Michael McIlroy, all students at Edinburgh College of Art for this short film 'Chaidh mo Bhràthair airson Suiteis' (My Brother Went for Sweets). The film tells the story of a girl's childhood memory of her brother surviving a horrible accident as a boy. Illustrated with abstract images and a rhythmic soundtrack the film playfully uses sound and image to consider the space between living and dying.
All 2014 winners are listed below, with every film entered in this year's FilmG competition available to view online at www.filmg.co.uk.
Actor, Greg Hemphill, said: "I had a fantastic evening at the FilmG awards ceremony. I attended back in 2009 when it was held in Inverness and amazed to see how it has gone from strength to strength in this time. I'd like to congratulate all the prize winners and I hope that they are able to use FilmG as a springboard into a career in the media."
FilmG judge, Calum Angus MacKay, said: "FilmG provides aspiring film-makers with a fantastic platform for showcasing their talents and I thoroughly enjoyed judging what was on offer this year. The variety of films that were produced was great and I'd encourage as many people as possible to watch these films."
Maggie Cunningham, chair of MG ALBA, said: "We are delighted that FilmG's success has continued to grow from strength to strength since the inaugural awards in 2009.  The competition received 76 films this year and we have been greatly impressed once again by the level of film-making from grassroots level with many repeat entries having greatly improved on previous years as a result of the workshop training and resources provided by industry professionals as part of the FilmG competition. In addition, some hopeful newcomers were encouraged to take part this year.
"The FilmG project helps build confidence in both media and language skills and supports the Curriculum for Excellence.  The Scottish Government continues to recognise the good work of FilmG and has once again offered us their support for which everyone involved with the project is extremely grateful.
"This year's winners were all of a very high standard and we'd like to congratulate those who took home a top award, as well as praise everyone for taking part and encourage those who may be interested in participating to have fun with Gaelic and make a short film for next year's FilmG."
Also presenting awards were much loved Scottish broadcaster Cathy MacDonald, BBC Scotland news reporter, Catriona Shearer, 'Dè a-nis?' presenters Derek MacIntosh and Megan McLellan, director Michael Hines, producer and director Don Coutts, Debbie MacKay star of BBC ALBA's new drama Bannan, award winning Gaelic bandMànran and Dr Alasdair Allan who presented the People's Choice award.
FilmG has unearthed a wealth of creative talent within the Gaelic community since it was established six years ago, and was named Best Cultural Event at the 2012 Scottish Event Awards.
Providing entertainment on the night was up-and-coming Irish band 'Seo Linn' who became an internet sensationlast year when they collaborated with Irish summer school 'Coláiste Lurgan' to produce a Gaelige music video of Avicci's 'Wake Me Up'.