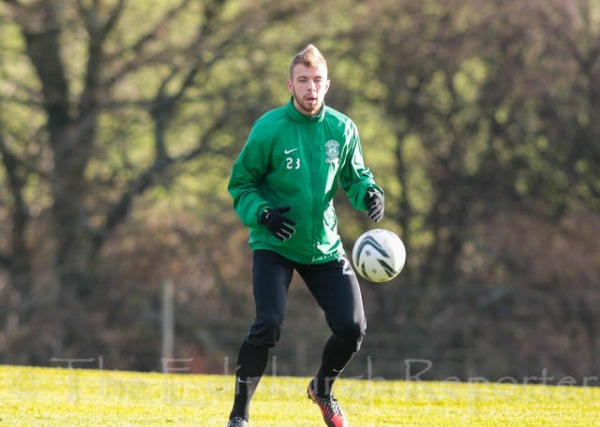 Hibs' full back Jordon Forster has slammed talk of a fear factor amongst the players when it comes to playing at Easter Road and insisted that they can't do anything about their poor home record other than start winning.
Speaking ahead of today's clash with Motherwell, Forster said: "There is no fear at all going on to play at Easter Road, for me personally. And I can vouch for the rest of the boys; no-one's scared to play at Easter Road. People always talk about the record at Easter Road, but it's a record because it's in the past. I think people spend far too much time on it. It's happened, so there's not a lot we can do about it.
"People talk about being scared to play at home, being scared to play a football match. It's a game of football. You have to go out and enjoy yourself, and if you're scared you won't enjoy yourself. If you're not enjoying football, I don't understand why people would play it.
Easter Road is a big pitch and players like to play on big pitches and try and pass the ball. I wouldn't say it's difficult to play on. Results haven't been good and you can hear the fans after games – they're entitled to their opinions. As a professional football player you need to be big enough and strong enough to take criticism and get on with it.
"We need to try and be a little bit more brave. Try and get on the ball more and not. I wouldn't say hide, but maybe we were being a little bit too direct. Maybe some of us need to be more brave, and get on the ball and look to pass it more."
After today's game, Hibs face Inverness, Partick Thistle and top six rivals St Johnstone all away from home before travelling to Tynecastle for what is likely to be the last top flight derby for at least one season.
The youngster continued: "We are solely focused on Motherwell on Saturday and, if we get the three points at home, it stands us in good stead going into a busy couple of weeks. Right now, the position we're in, top six is what we're aiming for, but Hibs is a massive club and we're definitely more than a top-six club. With the facilities we've got and the supporters, we should be challenging for fourth, third, second, especially with Rangers out the league just now. But, right now, top six is what we're aiming for."
Although Hibs are currently in seventh place, they are only six points above a play-off position, but Forster and his team-mates are not concerned about the bottom of the table and are looking upwards rather than over their shoulder.  "No, it's not a worry" he continued. "You're always aware of the teams round about you. But we're looking up rather than down. Obviously the performances haven't been good enough, and people start to question the teams coming up behind us, but we're solely focused on Saturday. If we get the three points, which we're aiming to do, it moves us away from them and closer to St Johnstone. "The performances picked up for seven or eight games, and they haven't been good enough of late. It's hard to pinpoint exactly why, because if we knew why we'd stop it. All you can do is work hard to try and get back to those performances. We are working hard out there to try and get things right and 
stop conceding as many goals, especially at home."
Photo by John Preece
http://www.photoboxgallery.com/jlp-photography