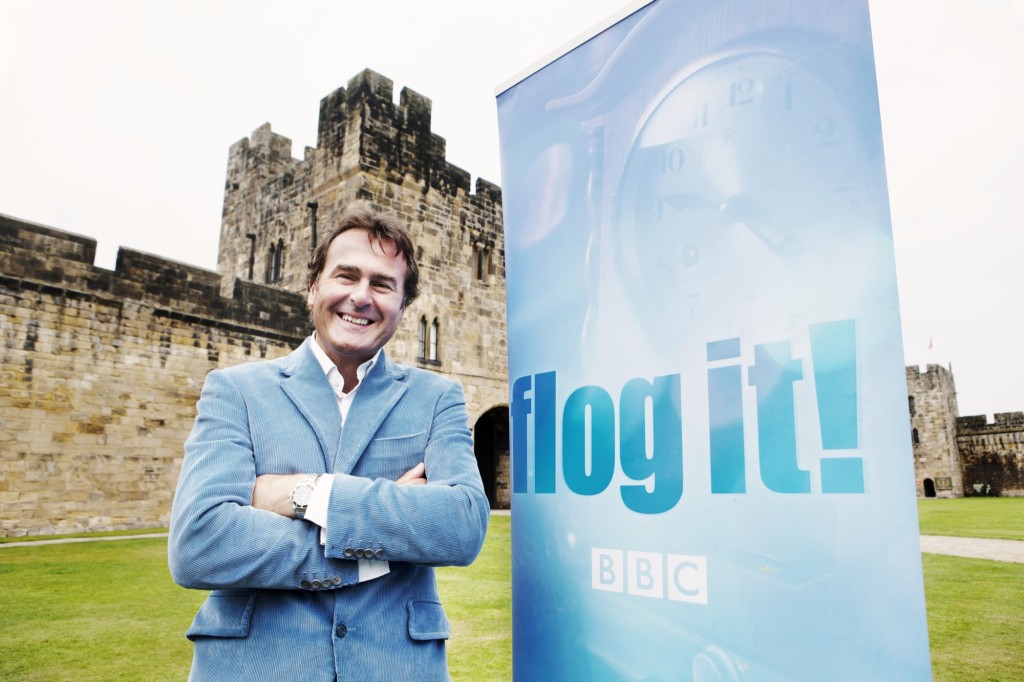 The BBC One antiques programme Flog It presented by Paul Martin, is coming to South Queensferry on Thursday 20 March 2014.
Flog It – the major BBC antiques show is now on its thirteenth series and regularly achieves an audience of over two million viewers in its weekday afternoon slot.
Hopetoun House near Edinburgh will be hosting the Flog It valuation day. Rather like a treasure hunt, members of the public are invited to bring along up to three antiques and collectables they might be interested in selling. Once valued, the owner and a team of experts decide whether an item should go forward for auction. If the item is chosen it is included in a sale a few weeks later – hopefully when the auctioneers hammer falls its owners make a tidy sum. Everyone who goes along to the Valuation Day will receive a free valuation – even if their antiques are not chosen to go forward for auction.
The show recently made a significant find when a rare Aboriginal Broad Shield that had been kept hidden away in a Flog It! viewers wardrobe was brought along to a valuation day in North Lincolnshire and went on to sell at auction for £30,000! The series also uncovered an unusual Royal Doulton Spook figurine in Blackpool which had been bought at a car boot sale for £2; it went on to sell at auction for £5000.
Louise Hibbins, Series Producer says "Paul Martin and the entire Flog It team are really pleased to be bringing the show to Hopetoun House. We always receive a warm welcome when we come to Scotland and Hopetoun with its rich history will provide the perfect setting for our event. If you've ever wondered how much your boot sale bargains or clutter in the loft might be worth, now is your chance to find out."
Piers de Salis, General Manager at Hopetoun House said:- "We are all really pleased to be welcoming Paul Martin and the Flog It team to Hopetoun which is one of Scotland's finest stately homes. Since 1699 it's been the home of the Hopetoun family and it still is today, every year we welcome thousands of visitors to the house and gardens which are now managed by the Hopetoun House Preservation Trust"
Paul Martin will be joined on the valuation day by Flog It on screen experts James Lewis, Catherine Southon and Adam Partridge.
Flog It! will be at Hopetoun House, South Queensferry, Nr Edinburgh, Scotland, EH30 9SL on Thursday 20th March 2014 between 09:30am and 4pm.
The items selected at the valuation day will go under the hammer at Great Western Auctions,
1291 Dumbarton Road, Whiteinch, Glasgow, G14 9UY on Saturday 12th April 2014, on the rostrum will be Anita Manning the well-known Scottish Auctioneer and TV antiques expert.
Contact: flog.it@bbc.co.uk
http://www.bbc.co.uk/flogit
http://www.facebook.com/bbcflogit
Submitted by Alex Habgood