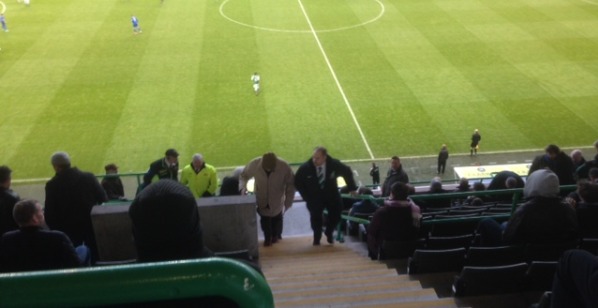 The enormity of the task facing Terry Butcher both on and off the pitch became apparent yesterday as he sat in the West Stand along with his wife and agent Jim McArthur watching his Inverness Caledonian Thistle team outplay a Hibs side lacking in confidence in front of a stadium less than half full, or judging by the mood of the supporters, more than half empty.
Most observers assumed that the former England captain would stay away from the ground given the circumstances, so there was an air of excitement in the concourse just before 2pm when he turned up. When asked about his position, he initially responded by saying that he was a neutral before correcting himself and pointing out that he was still the Inverness manager.
BBC tweeted that he would watch the game from the directors box and all the cameras were focused there, but just ahead of kick off, he emerged from the direction of the players' lounge accompanied by Hibs director Gary O'Hagan who showed him to his seat then sat strategically at the end of the row to prevent the press and supporters getting access to him.
Butcher showed no emotion when Inverness scored twice within a few minutes then created chance after chance whilst the Hibs players seemed unable to trouble their opposite numbers.
The 401 Caley fans who made to long trip to the capital however launched into a rendition of 'Butcher Butcher what's the score' then the Hibs fans responded briefly with a subdued version of 'Terry Butcher's Green and White Army.'
Had Pat Fenlon still been in charge, fury would have rained down from the stands, however the Hibs fans could barely muster a half time 'boo' as the teams left the pitch.
Interim manager Jimmy Nicholl made two half time changes, bringing on attackers Rowan Vine and Abdellah Zoubir to replace the off-form Ryan McGivern and Tom Taiwo, but the second period continued in the same vain as the first, with the Highlanders always looking the more likely to score.
Throughout the second half the Caley fans sang 'Oh Inverness is wonderful' which must have given Butcher food for thought as thousands of Hibs fans left early.
After the game, no-one from Hibs would commit to a timescale or even confirm whether the two chairmen had discussed compensation, although Jimmy Nicholl seemed in no doubt that Butcher would be the new manager sooner rather than later.
After the game he said: "For a team that haven't been taking their chances in the last two or three games, the last thing we needed was to be two down after 20 minutes, so it was always going to be difficult. All we were hoping for in the second half was to show a bit of character and a bit of commitment to see if we could turn things around. There is not much more that you can ask. If they had made it 2-1 would that have made a difference to the game and the outcome? I don't know, but they are just lacking a wee bit of belief and a bit of confidence and to be two down after 20 minutes against a good team and an organised team who go about their job properly, it was always going to be difficult."
When asked whether he thought that this would be his last game, Nicholl replied "God aye. I cleared my desk yesterday and took my boots in case somebody else nabs them. I expect things to happen over the weekend but until I get a phone call I'll have to be in on Monday morning."
Ironically, Nicholl played a major part in Butcher's return to the game following an unsuccessful period as a player / manager at both Coventry City and Sunderland as he explained.
"He came back up to Scotland and had a hotel in Bridge of Allan. He's a great big fella and the most humble man. He wrote me a letter so say that of a position ever comes up will you consider me?  I phoned him and said 'What are you doing writing?' Me and Alex Smith were at Raith Rovers and John Brownlie was looking after the youth team. I said to the directors at the time that I would love to have him. John Brownlie and big Terry Butcher would have had the kids in the palm of their hands. Brilliant. I wanted him in but there was nothing I could do financially. He asked if I got my petrol paid for and I said 'Aye' so he said if we filled his motor up, £50 per week, he would come in and work and that's what he did. Where he's got to now, he has worked for it. People said that he lived off his legendary status in England but it's not like that at all, he just mucks in does what he does. It was a great period. He's a big football man and I am glad things have worked out for him. He had a bad time in England and now he is having a good time, but he's going to have to prove that he is the right man to come in here and has what it takes to turn things around here and get them going.
"We didn't know he was sitting in the stand today and before the game I said to the players, 'listen you are on a 90 minute audition, it's like being on the X factor, so go and prove that you are good enough to be in his plans for the future and if big Terry's not here you are playing in front of the staff so be fully committed and go and win the game and give yourself an opportunity to be in his thoughts for the future.'
"You have to go and do it for yourself. You can't wait for older ones to make it happen and to be in the position we are in, with James (Collins) coming back it's the last thing you want to lose two quick goals, Confidence isn't great and we are not taking out chances. Whenever confidence is high, I've seen myself when we were 1-0 or 2-0 down and I've said to myself we'll be all right because I know what's on the dressing room and we could get back to 2-2 or even go on and win it, but we are not like that at this minute because we are not taking chances or playing with 100% confidence.
"I hate that, because you would think we were bottom or second bottom of the league but there are times when players are thinking 'I'm going to pass that ball forward and he's looking and looking then thinks oh no and he comes out the other side and delivers a wee square pass, but they have got to keep doing the right things and I just hate it when they are frightened to make mistakes but because of the circumstances of the crowd they don't do it, but they are a wee bit fragile at the minute."