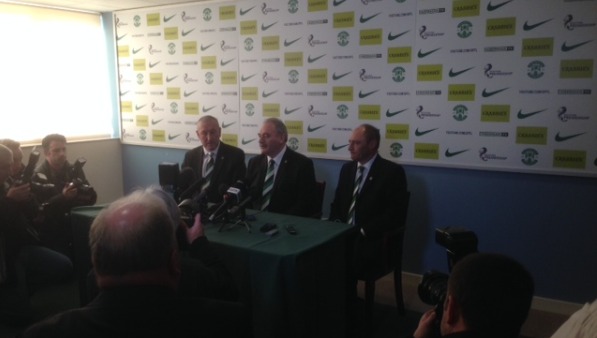 Terry Butcher has been appointed as the new manager of Hibernian, replacing Pat Fenlon who resigned two weeks ago. As expected, Butcher will be joined by Maurice Malpas who will take over as his assistant after compensation was agreed with Inverness Caledonian Thistle over the weekend.
The announcement was made by chairman Rod Petrie at a packed press conference within Easter Road, and the former England captain wasted no time in spelling out his vision for the future.
Butcher said: "I want to get the players playing good football and playing with a pride and a passion, being a difficult team to beat first and foremost. Stamina style and steel. Look at Saturday's Caley Thistle team and you would say that they had that in abundance and that's something we want to instil in our players here.
"There are some good players here and it's a great club. We want players to want to get into this team and when they do stay there and to do that they have to have a level of performance that we are happy with.
"The first target is to get into the top six and see where we go from there after that. At this moment in time people playing Hibs probably think they have a fair chance of three points but we want to change that mentality and we want to be a team that people hate playing against by being organised, strong with bags of effort and with boys that can play a bit as well. That's what we want. That's a start and we will see where we get.
"I'm excited about the future and what we can achieve at Hibernian – it's a great honour to be appointed the new manager of the club.
"I've been really impressed with the set-up; from the training facilities through to the stadium, everything is in place and now our goal is to deliver the success on the pitch that everybody wants.
"We want everybody associated with Hibernian – players, staff and supporters – to all pull in the same direction and to implement a winning mind-set.
"This is a big football club with big expectations, but with energy, enthusiasm, desire and focus I believe we can rise to the challenge ahead and win."
"Once I was taken round the training ground which is a superb facility and something that you dream of as a coach and a manager. This is what you are looking for, allied with the fans, the history and the potential of the club and the thing that we have to get right now is the team. A lot of the blocks are in place, it's a very proud club and we want to make the fans proud of the team again and I think we have to give them a lot more on the pitch which we will do.
"There are good players here and some are low in confidence. Some need a bit of a cuddle and some need a kick and what we are doing at the moment is assessing their character and strengths but already at the first training session today the intensity was good and James McPake was flying in with a few tackles which was a bit scary at times but was good and we can see that they have a hunger and desire and with our help and tuition they can improve, and they will improve and get more confidence because that is what is lacking.
"The players are very willing and keen and they are fed up losing and want to get back to their winning ways and enjoying their football and being together.
"Some of the boys have been called away on international duty but will be back in on Monday and the hard work really starts then as we prepare for St Mirren.
"The first thing we said to the players today is that we want you to work harder than any other team in the league and to do that you have got to be fit and you've got to be strong and that's what I want. After Saturday's performance there's only one way to go and that's onwards and upwards, but it takes time and the players have got to know what we are about.
"Owain Tudur Jones has told them all about Maurice (Malpas) and his running and hard work but it is hard work and everybody has got to work harder at the club. It's not rocket science; it's very simple, basic stuff.  Maurice is a fantastic coach, the best coach in Scotland for me and under his coaching and the way that he gets the players to work; they will know that they have to train at a really intense standard. What I want to see is a really hard working team but a team that can pass the ball and put the ball into the box and score goals. Goals have been hard to come by but we will work on that.
"Hibs are one of the best clubs in Scottish football and we want to match their aspirations with results and performances on the pitch.
"I'm looking at these players to cut the spending on potential newcomers in January to a minimum so they are playing for their careers, they are playing for the jersey, they are playing for the fans and they are playing for the club.
Chairman Rod Petrie said he was delighted to have appointed both Butcher and Malpas: "Terry is vastly experienced in Scottish football and an outstanding leader of men.
"He inherits a talented squad of players and we believe he has got the managerial skills and motivational qualities required to develop them as players and as a team and move the club forward.
"We've appointed a first-class management team to deliver continued success here at Hibernian."