Edinburgh Tapas Titans in the running to be voted the UK's Favourite Tapas Venue
With just a few days left until the winner of a competition being run to find the UK's Favourite Tapas Venue is announced, Edinburgh's widely acclaimed restaurants El Quijote, Tapa, Malvarosa and Indaba are all staking a claim for the title and flying the flag for the capital.
The competition is being run by artisan Andalusian beer brand Alhambra with consumers asked to nominate or vote for their favourite all-round tapas venue.  The final winner along with regional winners will be announced on the 12 October 2013, Spain's National Day.
Already receiving strong backing in the contest are:
El Quijote (EH3 9JS) was set up by a group of friends in 2003 and is proud to offer the finest Spanish ingredients cooked in the most authentic way.  Not just providing the classic tapa we all know and love, the restaurant aims to take customers on a journey through some of the lesser well known but equally tasty delicacies.    
Indaba (EH3 9QJ) is a quirky and unique tapas restaurant aiming to be a little bit different. With South African owner Charlton married to head chef Begoña, the restaurant serves up an array of classically Spanish dishes interspersed with some unusual but delicious South African tapa.
Malvarosa (EH15 2AT) is the first Spanish tapas restaurant in Portobello-Edinburgh and offers a selection of traditional tapa cooked using free range, organic local produce  and served in a true Spanish style.  Head chef James Benin produces mouth-watering classics such as Fabada, pil-pil prawns and calamares, plus specialities including Pescado Adobado and Albóndigas y Croquetas de Jamón y Pollo.
Tapa (EH6 6SW) opened in 2009 with the aim of providing an authentic Spanish tapas experience in vibrant surroundings and at a reasonable price. The restaurant has quickly made a name for itself and gathered a cult following using high quality traditional ingredients to create a scintillating selection of authentic tapas, washed down with a superb collection of Spanish Beers and Wines.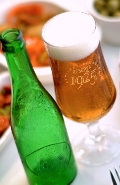 Anyone lodging a vote will be entered into a monthly prize draw each month to win a £100 restaurant voucher and the winning restaurant will receive £2000.  To vote or nominate visit www.facebook.com/CervezasAlhambraUk and follow the instructions.
Andalusia in Southern Spain is where the Alhambra beers hail from and is also thought to be the birthplace of tapas.  Literally meaning "Lid", it is thought by many that tapas first came about in Andalusia when plates were placed on top of glasses to stop the fruit flies spoiling the sherry. Soon morsels of food accompanied the plates before bars started to compete with each other, offering their own speciality tapa.  Today tapas is recognised as the quintessential cuisine of Spain and is celebrated and enjoyed around the world.