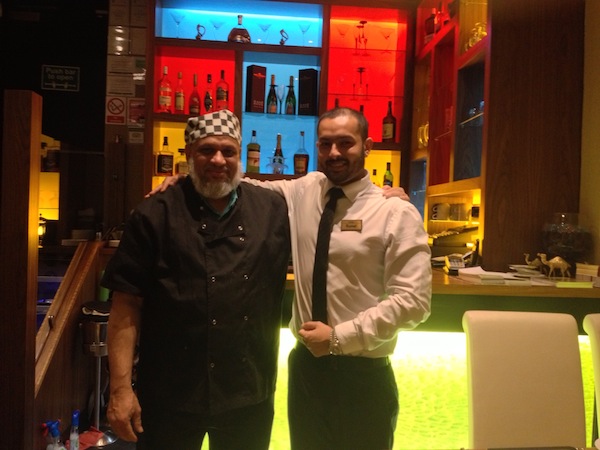 Delicious Indian food in chic and contemporary surroundings
Situated in the heart of Edinburgh just off the cobbled streets of The Royal Mile, the recently opened Vinyasa offers delicious Indian food in a modern and trendy environment. The relaxed, stylish, chic and contemporary surroundings allow you to enjoy the finest food from India and Bangladesh with a sense of sophistication that is often lacking in other Indian restaurants.  From the moment you enter you can tell that the staff take great pride in customer service. With Rumel on the floor and his grandfather in the kitchen, the family run team have over 65 years' experience combined.
Their reasonably priced menu featured a number of meat, fish and vegetarian dishes including Chef's Special King Prawn and Shashlik. As a starter the Murgh Chat with Puri, dried chicken cooked with masala and mango chutney, and the King Prawn Pathia with Puri, king prawns in a subtle sauce enhanced by fresh coriander were both delicious. When the food arrived the first thing we noticed was the attractive presentation, not easy to accomplish with curry!  Both dishes were full of flavour and vibrant colours- a real delight for the palate. We had a break between the starter and the main course (as advised!) which meant we had time to really savour our fabulous first courses which were exceptional!
As a main dish I selected the Tikka Massalam, something I often have and this too was delicious. You could taste the fusion of fresh herbs and spices in this dish and it was clear it had just been cooked. It was a little creamier than others I have eaten, but just delicious. My reviewing partner chose the Vinyasa Special Murgh which was a barbecued half spring chicken off the bone cooked in a delicately flavoured sauce. He wanted something with a little kick and it was a Vinyasa Special, so he followed the house recommendation and he assures me that he will be returning soon to have the same dish again- he enjoyed it so much. A selection of breads, fluffy rice and relishes accompanied each course and mixed seamlessly with the rich flavours. Unfortunately like most curry evenings we didn't leave room for pudding but I did enjoy a hot water with lemon while James finished off his cold Indian beer.
The block coloured bar at the back of the venue boasts a carefully selected wine list to accompany your meal although if like James you would prefer a beer with your curry then there is a good selection.
Vinyasa have recently launched their Monday Curry Club where you can sample genuine and authentic home cooking traditionally prepared by their expert chefs.  The menu changes every month so you will experience the colour and variety real home-made Indian food has to offer.
I can't recommend this Indian highly enough; first class food and service.
Vinyasa 34 St Mary's Street, Edinburgh, EH1 1SX
The Reporter Food reviewer, Celia Graham, is a partner in The Lifestyle Company Scotland you can follow the company and their lifestyle tips on Twitter