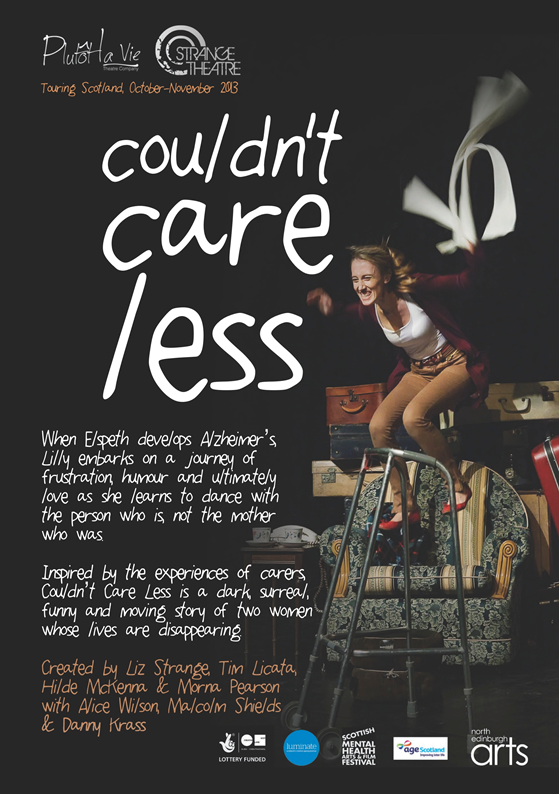 Inspired by the experiences of carers "Couldn't Care Less" is a dark, surreal, funny and moving story of two women whose lives are disappearing. When Elspeth develops Alzheimer's, Lilly embarks on a journey of frustration, humour and ultimately love, as she learns to dance with the person who is, not the mother who was.
Strange Theatre is co-producing the play with Plutôt la Vie and we are performing the play as part of the Scottish Mental Health Arts and Film Festival and Luminate: Scotland's Creative Ageing Festival. The play is funded by Creative Scotland and Age Scotland and is being created collaboratively by performers Liz Strange and Hilde McKenna, director Tim Licata, writer Morna Pearson, composer Daniel Krass, with designer Alice Wilson and choreographer Malcolm Shields.
The play is being staged at different venues in the city:-
Friday 11th October 7:30pm 
Saturday 12th October 2pm 
North Edinburgh Arts Centre 15a Pennywell Court, Edinburgh EH4 4TZ 
Box Office: 0131 315 2151  / admin@northedinburgharts.co.uk / 
www.northedinburgharts.co.uk

Thursday 17th October 8pm 
Friday 18th October 2.30pm 
Friday 18th October 8pm (Live Streamed Performance)
Saturday 19th October 8pm 
Traverse Theatre 10 Cambridge Street, Edinburgh EH1 2ED 
Booking: 0131 228 1404  /  www.traverse.co.uk
For those of you who can't get to one of the performance, the 8pm performance on Friday 18th October from the Traverse Theatre will be live streamed, so you can to watch the play live online for free where ever you are in the world: http://couldntcarelesstheplay.wordpress.com/watch-online/
You can also help spread the word about Couldn't Care Less by inviting your friends via their facebook event.