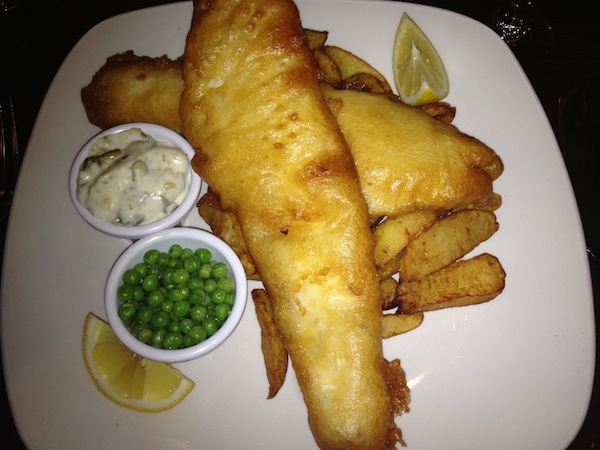 A Room in Leith is part of the well known "A Room in … " chain opened along the Water of Leith in 2008 and has an emphasis on modern Scottish cooking, using fresh locally sourced ingredients.
When you first step into A Room in Leith it immediately feels like a seaside bistro with green wood panelled walls, pretty drift wood mirrors and bowls of moules coming out of the kitchen (and smelling delicious).
When seated we immediately noticed that the restaurant was surprisingly busy for a Tuesday night.  We arrived at 7.30pm and a few families were just leaving so this little bistro is obviously a firm favourite with all the family offering 'kids portions' on their menu.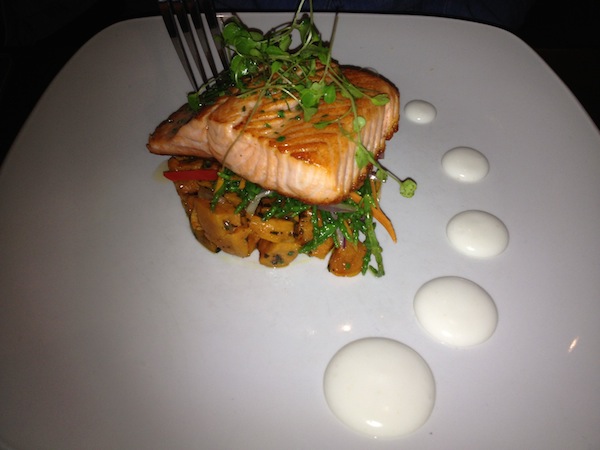 The menu included an array of seafood from juicy Shetland king scallops to North Sea Coley fillet and Argyll Oysters – yum! To begin with Celia and I, unusually, picked the same dish! A delicious bowl of comfort food, herb potato scones with slow cooked tomato, butterbean and roasted aubergine stew with crispy brioche croutons and Inverloch goats cheese. This was a real winter warmer and a tasty starter – they offered it as a main course too and it would certainly make a wonderful lunch dish.
Celia opted for a hearty helping of the Organic Black Isle Blonde lager battered haddock fillets with handcut chips and tartar sauce as a main course. As you can see the portion was very large, but I helped her out and the beer battered fish was well cooked in a tasty batter.
I chose the seared fillet of sea trout with stir-fried samphire, chilli, lemon thyme and tarragon, crushed sweet potatoes and a lemon and roasted garlic mayo dressing. The trout was cooked to perfection. It just flaked away and the flavoursome sweet potatoes gave the dish a real kick. I always regard samphire as a real treat and this little coastal plant added something special to the dish.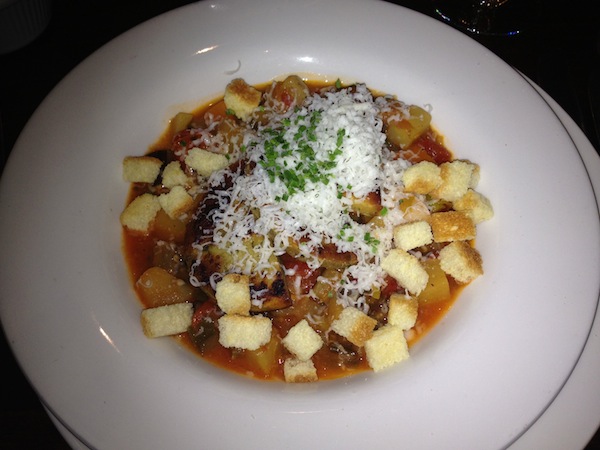 Celia was too full for pudding after her big battered fish but I, as always, couldn't refuse. Celia enjoyed a fresh mint tea whereas I went full steam ahead and ordered Banoffee pie. This is one of my favourites and from the fresh whipped cream to the biscuit base and thick coating of caramel I just loved it!
All in all A Room in Leith is a lovely waterside bistro with a fab beer garden and cosy interior offering affordable locally sourced food.
The restaurant also has a 2 course set menu for £16.95 served from Sunday to Thursday from 5.30pm until 6.45pm.
A Room in Leith  1a and 1c Dock Place ,  EH6 6LU  0131 554 7427   
The Reporter Food reviewer, Holly Jones, is a partner in The Lifestyle Company Scotland  You can follow the company and their lifestyle tips on Twitter