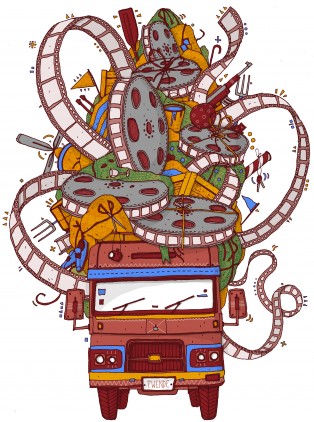 The programme for the Africa in Motion Film Festival 2013 has been announced. The festival, which takes place between 24 October – 3 November 2013 at Edinburgh's Filmhouse Cinema, Glasgow's Film Theatre & Centre for Contemporary Arts and  'pop-up' cinema venues in both cities, is in its eighth year and is renowned for being Scotland's biggest celebration of African cinema.
Founder and curator Lizelle Bisschoff has dubbed this year's event as having "our most ambitious programme to date", with the theme for 2013 being 'Twende: Africa on the Move' ("twende" is a Swahili word which translates as "let's go!").
A diverse programme of documentary and fictional films (over 40 titles including seven UK premieres) will capture Africa's richness and beauty through movement, literal and metaphorical, from the movement of people across regions and borders with films about immigration and asylum, through political, cultural and social movements, to movement in its more literal form with films about sport, dance and street life in African cities.
Bisschoff says of the 2013 programme:- "We are consolidating our expansion to Glasgow with an extended programme, including several outreach and community screenings in interesting and unusual places, both in Glasgow and Edinburgh. Our pop-up venues include an empty swimming pool, a haunted pub, a Moroccan-style lounge and an African restaurant. We also have a number of directors in attendance, including South African maverick filmmaker Jahmil Qubeka, who will be here to talk about his brilliant and controversial feature film, Of Good Report, which was banned and then unbanned at the Durban International Film Festival in July."
Here are details of the opening nights and features. The full programme and tickets for films can be bought online.
Opening night film –  Edinburgh, Thursday 24th October
Grigris: Based on real events, this is the inspiring story of a young man living in N'Djamena, capital of Chad, who dreams of becoming a dancer in spite of his physical disability and his dangerous involvement with a gang of petrol smugglers. The opening night screening will be followed by a reception with live music.
Opening night film – Glasgow, Friday 25th October
Of Good Report: After engaging in an illicit affair with one of his pupils, English teacher Parker Sithole spirals into an abyss of obsession that eventually turns to murder. This semi-comic homage to classic film noir was controversially banned in South Africa and pulled from the Durban International Film Festival in July 2013.
Closing night film – Edinburgh, Sunday 3rd November
The Forgotten Kingdom: The UK premiere of this poetic journey through the stunning rural hills of Lesotho, a tiny country landlocked by South Africa. The closing film will be preceded by the screenings of the winners of the AiM Short Film Competition.
Closing night party – Glasgow, Sunday 3rd November
The closing night party in Glasgow will include an East African-themed VJ event inspired by a phenomenon that has emerged predominantly in Uganda and Tanzania and utilising AiM's ever-growing short film collection.
Feature films: A selection of international feature premieres, several of which are receiving their UK premieres.
The Children's Republic: Danny Glover stars in this surrealist science fiction drama directed by Flora Gomes from Guinea-Bissau that imagines a small state in a futuristic Africa that's been ruled by children since their parents abandoned them after ruining their country with war.
Difficult Love: An intimate, thought-provoking portrait of internationally celebrated South African lesbian photographer Zanele Muholi and her highly personal take on the challenges facing black lesbians in SA today.
Durban Poison: Twenty-seven years after his controversial film Shot Down was banned in his home country and went on to become South Africa's definitive cult film of the 1980s, director Andrew Worsdale returns with this noir romance based on the true story of South Africa's Bonnie and Clyde.
El Sheita Elli Fat (Winter of Discontent): Documentary maker/journalist Ibrahim el Batout's political thriller delivers a searing account of the root causes of the Egyptian revolution and propels the audience headlong into the surreal atmosphere of terror and uncertainty that characterised the last days of Mubarak's rule.
Horses of God: Using the devastating terrorist attacks of May 2003 in Casablanca as a backdrop, this political drama tells the story of ten-year-old Yachine who lives with his family in the Sidi Moumen slum and his elder brother, Hamid, who is released from prison a newly converted Islamic fundamentalist.
Material Warm: Witty comedy in which a dutiful Muslim son who works with his traditionalist father who tolerates no funny business (Vincent Ebrahim – The Kumars at No.42) in a declining textile store in Johannesburg is secretly practicing to be a stand-up comic.
Touba: Revealling a different face of Islam, this film chronicles the annual Grand Magaal pilgrimage of one-million Sufi Muslims to the holy Senegalese city of Touba. Shot on celluloid, its vivid cinematography and striking soundtrack elevates the film to the level of a humanist poem.
Town of Runners: Inspiring documentary about young people from the Ethiopian rural town of Bekoji, whose runners have won eight Olympic Gold medals and 32 World Championships and broken ten world records in the last 20 years.
Guest filmmakers in attendance:
Jahmil Qubeka – Director of Of Good Report
Judy Kibinge – Director of Something Necessary
Newton Aduaka – Director of One Man's Show
Zanele Muholi – Director of Difficult Love
Daniela Ricci – Director of Creation in Exile