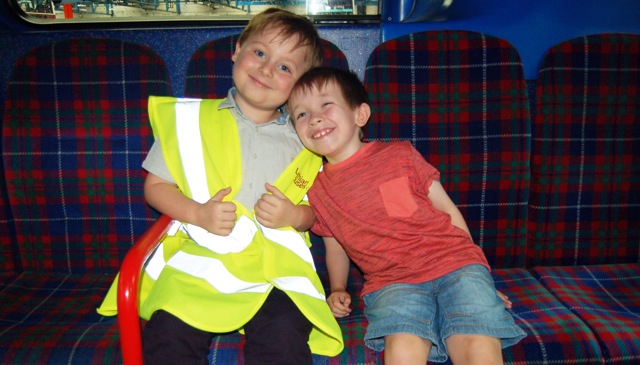 Lothian Buses organise exclusive visits to its Central depot for families supported by It's Good 2 Give
It's Good 2 Give run regular workshops for the children they support which include jewellery making, Cupcake decorating, decopatch, glass painting, fruit picking & dessert making.
Lothian Buses are supporting these events by organising depot visits for its Charity of the year.
On the second trip to the depot which was held this month, the children and their families had an exclusive tour of the bus company's Central Depot which included the chance to 'be the bus driver', an exciting trip through the bus wash and the chance to see the engineering department in action.
The children all receive Lothian Buses' goodie bags.
Lynne McNicoll, founder of It's Good 2 Give said:-"The programme of workshops we organise is varied and fun. I was especially delighted to be able to offer patients and families a chance to see behind the scenes at the Bus Depot – no doubt about it – going through the Bus Wash was the highlight with sitting in the driver's seat a close second.
"We are really grateful to Lothian Buses for the support they are giving us."
Ian Craig, Chief Executive, Lothian Buses said:-"We are really enjoying working with It's Good 2 Give this year, they do amazing work supporting local families.  We are delighted to be able to give some of these families a fun outing, discovering behind the scenes at our Central Depot."