Sir Chris Hoy's announcement today that he was retiring from professional cycling was not really news to anyone at today's press conference, which was a light-hearted affair, despite the fact that it is an important milestone in his career.
He appeared quite relaxed although there was some fairly precise timekeeping behind the eventual appearance of the Edinburgh athlete through the doors of the hospitality suite at Murrayfield Stadium.
And Edinburgh is right up there in his thoughts. When asked about the facilities at Meadowbank he replied that he believes Edinburgh needs to do something to improve their training offering.
"Back in 1994 we got the velodrome in Manchester and now we have the great facility in Glasgow. There is a whole generation of cyclists who will watch the Commonwealth Games next year and I hope they then get involved.
"It is amazing to have this all-singing all-dancing facility in Glasgow, but you don't want to forget that the sport was surviving because of Meadowbank. I would not be here talking to you without having had the facilities of Meadowbank. To have somewhere that you could train and can get school groups down to use, then it does not have to be as fancy as the one in Glasgow – a tin shed over an indoor track is all you need!
"Think of all the athletes on this side of the country who are not able to travel an hour two or three times a week to go the velodrome in Glasgow, so you have to have as many facilities as possible. Elite athletes will travel, but you have to allow other potential cyclists a chance.
In reply to Sir Chris's comments about trying to improve cycle safety on the roads, The Edinburgh Reporter asked:-"Any chance of you joining the Pedal on Parliament in May this year?"
Sir Chris replied:-"If I am around in May I would love to. It is a great campaign which I have supported in the past with messages of support.  I am quite busy at the moment but that is not an excuse.  I would hope to be there!"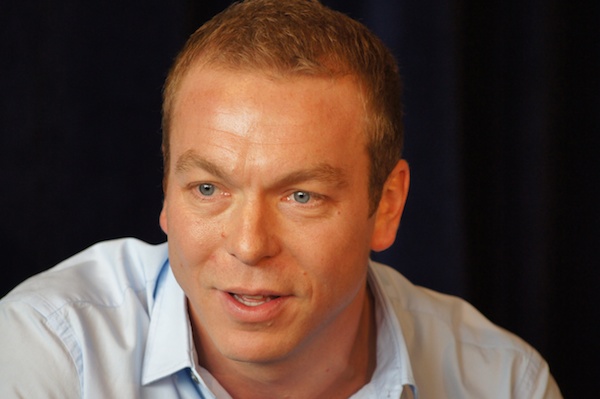 He was asked about his greatest moment ever and replied:-"I thought nothing could top being an Olympic Champion the first time, but then London was a pretty special moment. It was an up and down couple of years leading up to London and it was nice to get there and win gold.
"But my career has had many significant moments when I realised I had taken a step up to the next level – and I have had so much fun! You take up sport because you love it and I will cycle for the rest of my life. I hope to encourage others to get into sport and to ride bikes in the future.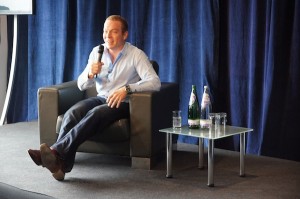 "I did not feel any pressure from any expectation that I would be in the Commonwealth team in 2014. We have so many talented athletes on the team and they are going to do well. There were a lot of people who hoped I would be there in 2014 but I think I have had my time and it is time to let other athletes have their share. I wanted to be in Glasgow as much as anyone else, but I would not want to turn up and have a disappointing performance.
"I suppose this announcement has been hanging over me a little bit. I have not been dreading it but I do feel better having come here today. It was interesting watching all the media speculation in the last few days. Everyone expected that the announcement would be about my retirement, so I guess that proves it is the right decision!
"I have spoken to Louise Martin who was very supportive. She told me:-"No matter what your decision is we will support it. She said that she thinks I have done the right thing, and I immediately offered my services as a mentor. It will be a successful games anyway. It is a team sport.
"I am an Ambassador for the 2018 Youth Olympics, there are the 2014 Commonwealth Games. I am an ambassador for that too and I have an advisory position with the Scottish Rugby Union in a very small role. I am very proud to have been asked to do that. I have charity work with UNICEF and I will be building my own range of bikes too. Just spending time with Sara will be great. Cycling takes over your life and it will be nice to put something else first for a change.
As for a part in the Independence Campaign? "I have always tried to keep sport and politics separate and nothing is going to change there. One of the things I want to do is to go out mountain biking and cycle for fun. To get up the Pentlands would be something to look forward to. I will have to fight the beer belly! I might like to do the cycle from Land's End to John O'Groats – that's something I have never done!"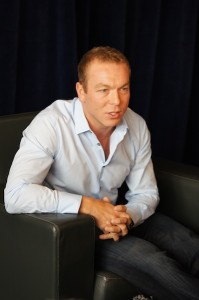 The athlete confirmed that he has no plans to relocate from his home just south of Manchester, but he feels that Edinburgh is still home and may come back here in the future.
He explained that his parents had been very supportive:-"My dad used to work Monday to Friday and then pack the mattress into the back of the car.   I would sleep in there all the way and then race all weekend. He would snatch some sleep when he could. They were not pushy parents, but they were always there to support me however.
Sir Chris is supported in today's decision by his wife Sarra, who said that it was a difficult decision but ultimately one he had to make himself and that she would have supported him no matter what he decided to do. The cyclist also explained that they have no immediate plans to have a family.
The official statement:-
"Today I formally announce my retirement from international competition. This is a decision that hasn't come easily, but after discussing it at length with my wife Sarra, my family and my coaches, I am happy that this the right time.
During my 19 years competing at senior level I've witnessed the sport of cycling in the UK flourish and transform beyond all recognition, and to have been there for the journey gives me huge satisfaction. I have many wonderful memories from traveling and competing all over the world in numerous events, not least the four Olympic Games, three Commonwealth Games and 16 World Championships. During this time I've not only had success, but a lot of fun too.

I have been incredibly lucky to have had the support of some amazing people throughout my career; my coaches, team mates, team support staff, sponsors, management, fans and of course my family and friends. None of my victories would have been possible without their help.

Having had time since the London Olympics to reflect on my career, I know this is the right moment to bow out. Nothing would have given me more pride and pleasure than to represent Scotland at the Commonwealth Games next year in Glasgow, but I feel that it would be a year too far and I wouldn't be able to perform at a level which would do myself and the team justice. I hope this will give the chance for a younger rider to step into the team and shine.

In the future there are many projects that I'm very excited to be getting involved with; a Games Ambassador role for both Glasgow 2014 and the 2018 Youth Olympic Bid, supporting a number of charities including UNICEF and SAMH, and continuing to design and develop my own range of bikes. I'm also looking forward to spending more time together with Sarra.

I'm pleased to say that cycling is still something I love to do and I'll continue riding bikes for pleasure for the rest of my life.  I'm passionate about encouraging people of all ages and abilities to get on their bikes and experience the benefits it can bring."