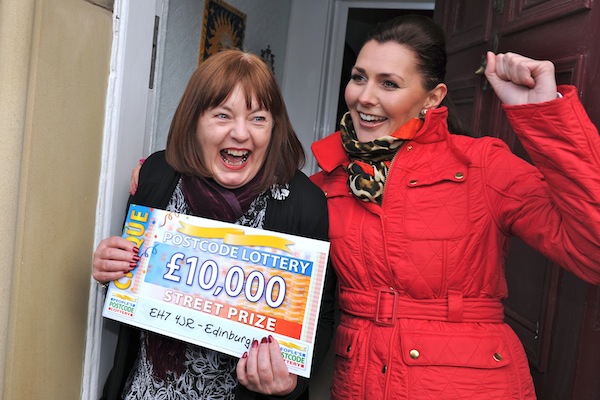 The winner was not at home but his wife, Mary,  was delighted to take the cheque on his behalf.
It was an early Easter treat for one lucky player from Edinburgh over the weekend after scooping £10,000 thanks to charity lottery, People's Postcode Lottery.
Lucky winner Chris Murray, from East Claremont Street, sadly wasn't at home to receive his cheque, but his wife Mary was more than happy to discover how much her husband, who has been playing with their postcode EH7 4JR since 2007, had won.
Mary and the couple's gorgeous dog, Alfie, greeted Street Prize presenter, Judie McCourt, and said:- "I am just so completely surprised," said Mary. "This is just a fantastic amount for us to win and it really will make such a difference to us.
"I think we will probably use the money to have some renovations done to the house, but we will definitely have to treat ourselves to something a wee bit more exciting. We'll start the celebrations tonight with a glass or two of champagne."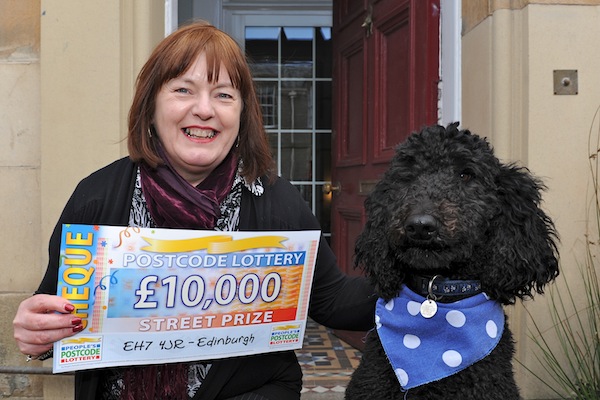 Mary, who is a primary school teacher at Leith Walk Primary School, can't wait to tell her class about her exciting win. "I will definitely have to take in some pictures from today," said Mary. "I think I will have to frame the cheque and put it up in our caravan."
Mary also suggested that all of her neighbours should join up to play with People's Postcode Lottery:- "My neighbours should definitely play and next time they could be the one's getting a visit!"
People's Postcode Lottery ambassador and Street Prize presenter Judie McCourt, who presented Mary with her cheque said; "This is great news for Mary and Chris. Chris phoned home whilst we were there and Mary was teasing him that they had just won £5. She was so excited to be able to tell him that they had won £10,000."
Players like Mary and Chris aren't the only winners with People's Postcode Lottery. Good causes throughout Great Britain are benefitting every day thanks to the continued support of players who have raised over £23.9 million for charities and good causes. Players of People's Postcode Lottery have funded 72 projects in Edinburgh, totalling £614,763 in support for good causes throughout the city.
Sign up at www.postcodelottery.co.uk  today for your chance to be a lucky winner like Chris and Mary Murray.
Pictures by Cate Gillon for Postcode Lottery, tel: 07894664288, email: photography@categillon.com