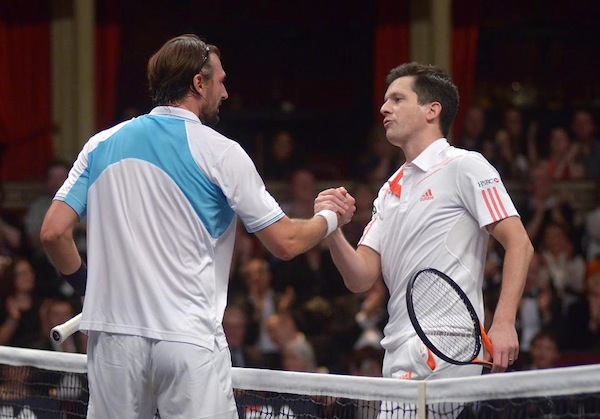 TIM HENMAN & GORAN IVANISEVIC CONFIRMED TO PLAY AT BRODIES CHAMPIONS OF TENNIS

Tim Henman and Goran Ivanisevic are to play at the Brodies Champions of Tennis in Edinburgh, it was confirmed today. The pair, who famously met in the semi-finals of Wimbledon in 2001 before the Croat went on to win the title as a wildcard, will reprise their rivalry at the first ever ATP Champions Tour event in Scotland, which is to be held at the home of the Edinburgh Academicals from 20-23 June 2013.'
Tim Henman said:- 'I'm really looking forward to returning to Edinburgh to compete in the Brodies Champions of Tennis event. The last time I played in Scotland was at the National Junior Championships at Craiglockhart and it will be a real pleasure to come back and play in front of some very knowledgeable supporters.
'Andy Murray's success has put Scotland firmly on the tennis map and the level of support he has received demonstrates that there is a great passion for tennis in Scotland. It is fantastic that Brodies LLP has come on board to sponsor the event in its inaugural year and I am looking forward to being a part of what is shaping up to be a first class event.
"I'm really looking forward to playing Goran again," said Henman. "Our match in 2001 in the semi's at Wimbledon was such a unique match and such a special match because it was of huge importance to both of us. If there's one match that people want to talk about with me it's probably that one.  l look forward to playing him again, and hopefully beating him this time."
Ivanisevic is equally excited by the prospect of once again playing the man that he beat on his way to that life-changing Wimbledon title. He said:- "Whenever I see Tim I think of that match.  It's going to be great to play him again, especially in Scotland.  I have always wanted to visit Scotland, home of Andy Murray!  It will be great to see Edinburgh, a city that I have heard so much about, and I am looking forward to competing for the title. I know John McEnroe is going to be there as well so it should be a fun week, it always is when John is around!"
Tournament Director Viki Mendelssohn said:  'The quality of the playing field I am bringing together is turning up some mouth-watering rematches. Alongside John McEnroe, to have players as outstanding as Goran and Tim – two of the most popular and passionate players of their time – shows our commitment to producing a highly competitive Tennis event for spectators.'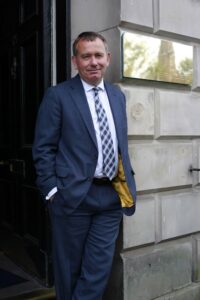 Bill Drummond, Managing Partner at Brodies LLP said ' The calibre of players that are confirmed so far is outstanding. Both Tim and Goran are fantastic ambassadors for the game and still playing great tennis. If drawn together they will provide a real cutting edge to the playing schedule,  I am sure spectators would love to see a rematch of that memorable Wimbledon semi-final.'
Tickets are now on sale at www.championsoftennis.com.