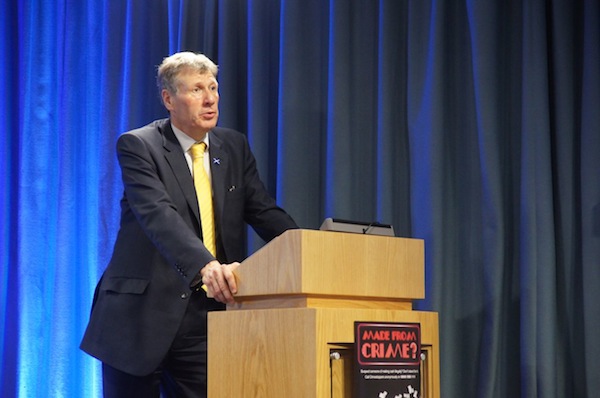 LAUNCH OF MAJOR FINANCIAL CAMPAIGN BY POLICE FORCES ACROSS EAST OF SCOTLAND
Criminals across the East of Scotland who fund their lifestyles through crime are being targeted in a major new campaign launching today.
Lothian and Borders Police, Central Scotland Police and Fife Constabulary are working together in the newest phase of the successful 'Made From Crime?' initiative.
It is designed to make full use of the Proceeds of Crime Act, specific legislation that allows officers to seize assets that have been purchased through criminal activity. The Reporter spoke to Justice Secretary Kenny MacAskill about what happens to the money or assets recovered:-
The campaign asks communities throughout the East of Scotland to report their suspicions via Crimestoppers about those making money illegally through crimes.
Ways in which people can voice their concerns include the telephone, online using the secure Crimestoppers website or through specific facebook advertising that is geo-targeted to communities throughout the East of Scotland.
As well as reporting via telephone, people can also securely report online via the secure Crimestoppers website or through specific facebook advertising that is geo-targeted to communities throughout the area.
'Made from Crime?' is the only POCA (Proceeds of Crime Act) initiative of its kind in Scotland, and has the backing of both the Scottish Government and the Crown Office and Procurator Fiscal Service.
Justice Secretary Kenny MacAskill will today join Deputy Chief Constable Iain Livingstone, who will oversee the crime portfolio for the upcoming Police Service of Scotland, and David Harvie, Director of Operations from the Crown Office and Procurator Fiscal Service, to launch the campaign. Bill Matthews, Crimestoppers Chairman, will also speak in support.
This launch marks an extension of the previous 'Made From Crime?' campaign which ran to huge success across Lothian and Borders Police in 2011.
During that phase of 'Made from Crime?' 44 people were arrested and charged in connection with POCA offences, and over £6.4 million of cash and assets were earmarked for seizure from criminals.
The joint working between Central Scotland Police, Fife Constabulary and Lothian and Borders Police comes in advance of the Police Service of Scotland launching on 1st April. These forces will join to form "East Command", and will share services and resources.
Deputy Chief Constable Iain Livingstone said: "The launch of this campaign today sends out a strong message that the Police in Scotland will not tolerate criminals profiting from crime.
"We know there are people living beyond their means on the proceeds of crime, be it through the purchase of flash cars, designer clothes or expensive jewellery, and that communities are suffering from the side affects of drug dealing, violence and other associated crimes.
" I would assure people who are trapped by those threatening them with violence or retribution, either associates or partners, that we will help them and tackle the violence and criminality they face. We will act on information and bring offenders to justice.
"Criminals don't care or respect policing boundaries and it's crucial that where they go, we go. This joined up working between Fife, Lothian and Borders and Central Constabulary is the first step in stripping away the artificial barriers that force boundaries put up and tackling crime in a leaner, meaner and sharper way."
Justice Secretary Kenny MacAskill said: "'Made From Crime?' is a great initiative in the fight against organised crime and I welcome it being expanded across the east of Scotland. There should be no hiding place in our neighbourhoods for those who cash in on crime.
"More than £6.4 million worth of dirty money and assets was earmarked for seizure through the first phase and I look forward to this second phase building on that. The Proceeds of Crime Act in Scotland has allowed over £60 million to be recovered from criminals, and we are investing this money through the CashBack for Communities Programme to put that bad money to good use.
"With Lothian and Borders, Central and Fife joining forces to build on the progress made 12 months ago, the net is closing in on those responsible for crimes that cause serious harm to individuals and communities. With the public's help, more of those profiting from crime should and will be firmly brought to justice."
Director of Operations for Crown Office and Procurator Fiscal Service David Harvie said: "We know that organised criminals are ever more resourceful and we need to be one step ahead of them. To do that, we need to know what is happening on the ground. Law Enforcement and prosecutors can't do that alone. Our biggest allies in this are the decent, hardworking people who see first hand the devastation that organised crime brings to communities and the profits made by those criminals from the misery of others.
"We have to make sure, together with one another and with the help of Scotland's communities, that crime does not pay."
Bill Matthews, Chairman of Crimestoppers said: "Crimestoppers are delighted to be playing a key role in 'Made from Crime?'. As the charity celebrates its' 25th anniversary, we are proud of our unblemished record in support of those who wish to report crime anonymously".