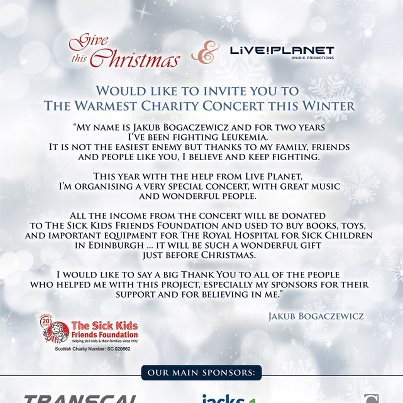 This December  a concert will be held in Edinburgh to raise funds for the Sick Kids Friends Foundation SKFF. The concert is being organised by leukaemia patient, Jakub Bogaczewicz, and all the proceeds will be donated to SKFF to enable them to keep some of the children at the Sick Kids entertained with books and toys. The concert is at HMV Picturehouse on 12 December 2012 and the main act will be Anita Lipnicka & John Porter playing with their 8 piece band. Booking information here.
The Foundation was set up in 1992 to support the work of the Royal Hospital for Sick Children in Edinburgh. It gives assistance in five primary areas, namely the provision of a wide variety of extra comforts, which make time in hospital better for children, extra child and family-friendly facilities, the purchase of extra medical equipment over and above NHS provision, the provision of extra support for sick children who are cared for in the Community and funding for extra training and research.
Each year the Foundation raises around £1.5 million to help children and families at the hospital. All their work is funded through donations from the public, companies, Trusts and Foundations and organisations who wish to help make the Sick Kids even better.
One such donation came from Balerno man Andrew Dickson who cycled from Perth to Brisbane in Australia earlier this year. The sixty year old travelled unaided across the country, and sponsored his trip from his own pocket, ensuring that every penny raised went to charity. His many adventures were highlighted in The Edinburgh Reporter.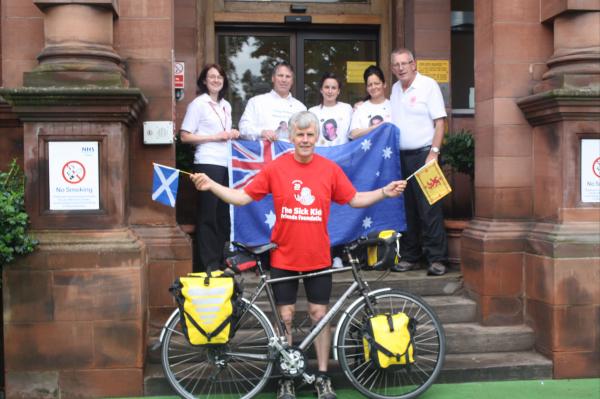 Another initiative was the bi-annual Postcard Exhibition which was held at Lyon and Turnbull Auctioneers earlier this month. Many leading and up and coming artists from across the UK contributed works of art on postcard sized boards which were then exhibited anonymously, allowing the foundation to purchase state of the art medical equipment, provide extra support for families,  and a huge range of comforts and treats for the children.
The iconic Royal Hospital for Sick Children was built on its present site in Sciennes Road, Edinburgh in 1895 and opened by Princess Beatrice, granddaughter of Queen Victoria. It was the first children's hospital in Scotland, and receives over 100,000 children through its doors each year from all over the East of Scotland.
The Paediatric Intensive Care unit shares the operation of the Retrieval service for the whole of Scotland along with Yorkhill Children's Hospital in Glasgow, bringing seriously ill children to the hospital from children's wards for Intensive Care. The hospital is also home to the Scoliosis service for the whole of Scotland.
The present hospital, although a lovely building, does not provide the best environment for 21st century healthcare for children, and NHS Lothian is currently working on plans for the replacement hospital for Children and Young People which will open at Little France in 2017.