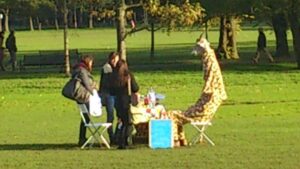 Watch out there's a wild animal on the loose in the capital.
I didn't expect to see one of the Big Five in The Meadows today!
The giraffe told The Reporter he is unemployed, so he goes out and chats to people to raise money for doing good deeds. He also visits people in hospital and buys frisbees for dogs who end up in the Dog and Cat Home…..
Did you see him? Send us a photo!
Some of our Twitterati saw him….