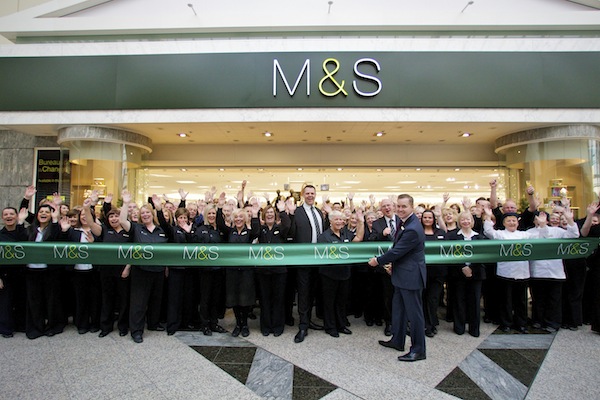 M&S THE GYLE UNVEILS NEWLY TRANSFORMED STORE FOLLOWING EXTENSIVE MAKEOVER
Marks & Spencer has just unveiled its revamped store at The Gyle following an extensive makeover.
Store manager, Aaron Spicer, cut the ribbon on Thursday last week at the newly refurbished 106,000 sq ft store in front of a crowd of eager shoppers who gathered to get a first glimpse of the new layout, features and improvements that formed the major transformation.
The store, which first opened its doors nearly 20 years ago, has benefited from a makeover during the last six months to create an inviting and inspiring shopping experience.
The store improvements include:
Food hall: The Food hall has undergone an extensive revamp with more than 400 new lines added to the store's extensive range of 4,000 food and drink products. There is also a new Deli counter featuring Scotland's first in-store pasta making machine and a range of tempting delicacies specially sourced from around the world. The Bakery has been extended and offers a range of speciality breads, cakes and pastries freshly baked every day.
M&S Café: The store's stylish M&S Café has doubled in size, with seating for 230 customers, who can choose from a selection of hot and cold refreshments, with Fairtrade tea and coffee freshly prepared by specially trained Baristas. The larger M&S Café replaces the store's two smaller Cafés.
Clothing: Changes across fashion are designed to clearly segment favourite clothing ranges to see which brands best meet their personal style preferences. Womenswear, Menswear and Kidswear have been revitalised and offer the latest fashion for all the family, including the popular per una, sophisticated Autograph and stylish Limited Collection ranges. Lingerie has also received a makeover, with a great new look to create a more inspiring shopping experience.
Beauty: The store's new Beauty department offers exclusive brands from around the world, with expertly trained consultants on hand to offer advice on the best skincare and cosmetics for the upcoming season.
Home: Cutting edge technology provides a more interactive shopping experience for customers in the transformed Home department, which is now in a great new location in store, with iPads and product browsing screens allowing shoppers to easily view and order the latest M&S Home ranges for the kitchen, bathroom and living room.
The first 100 customers who "Shwopped" on the day were given a re-useable bag in thanks for their donation. Championed by Joanna Lumley, Shwopping is the new M&S initiative inviting customers to "Shwop" by donating a piece of clothing in-store every time they buy a new piece. Through Oxfam, these will be resold, reused or recycled and the money raised will go to people living in poverty.
Aaron Spicer, store manager at M&S The Gyle, said:- "We are delighted to showcase our revamped store to shoppers and have been thrilled by their response so far, especially with the new Café and Food hall.
"We have introduced some fantastic new features across the store, including a spacious new layout in the Womenswear and Menswear departments, which our customers have given us fantastic feedback on."
M&S The Gyle is open from 8am – 8pm from Monday to Wednesday, 8am – 9pm Thursday and Friday, 8am – 7pm on Saturday and 9am – 6.30pm on Sundays.
The store continues to offer its Food Ordering service and Shop Your Way, the ordering and collection service allowing customers to pick up orders placed online, at www.marksandspencer.com