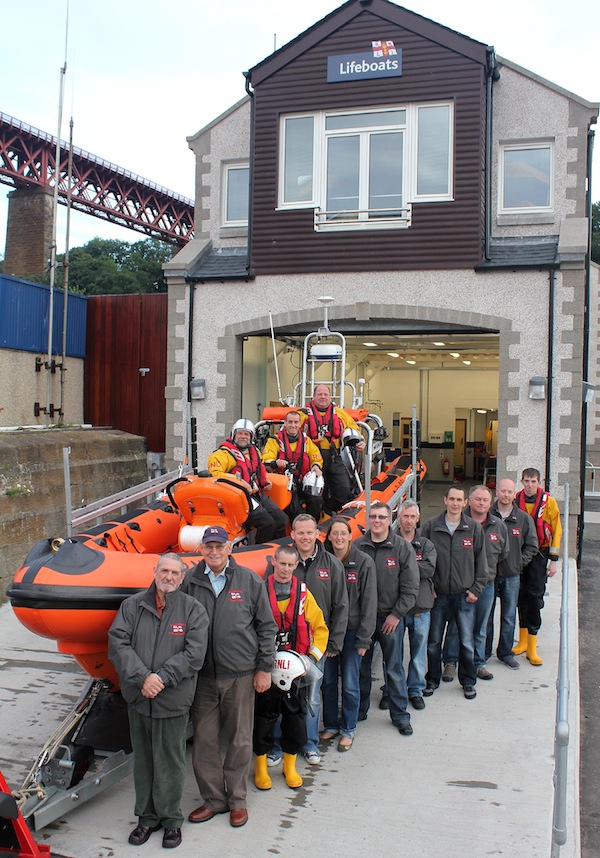 The Atlantic 85 Lifeboat the "Jimmie Cairncross" which has just arrived at the RNLI Queensferry Lifeboat Station this week, was called out twice today.
At 3.30pm. the RNLI Lifeboat with four crew was called out to 11 people, 8 adults and three children trapped on Cramond Island by the fast incoming tide.The crew took them aboard the Lifeboat and landed them safely ashore.
At 5.38 pm. the wholly volunteer Lifeboat crew were in action again as the Coastguard reported a speedboat in difficulty off Cramond Island. The 18 feet Fletcher speedboat "Winsome" with Tim Lewis and his wife Eileen from Redding, near Falkirk on board, had suffered an engine failure. They started up their auxiliary engine only to find that they were making no headway in the one metre swell and force four wind.
The RNLI Queensferry Lifeboat crew took the speedboat in tow and returned her to the Hawes Pier, South Queensferry where they manoeuvred the boat on to a trailer for the very grateful couple. The crew reported that the couple were fully equipped with lifejackets and had VHF on board and had a spare engine.