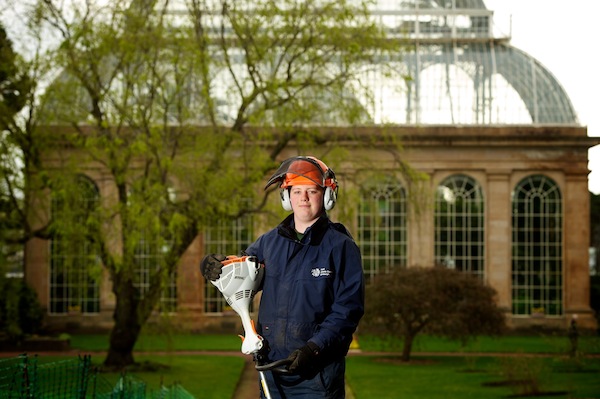 Modern Apprentices are vital to the future of the horticulture industry in Scotland, according to experts at the world-renowned Royal Botanic Garden Edinburgh.
The centre, which is both a scientific centre for the study of plants and a popular visitor attraction, is backing Skills Development Scotland's Scottish Apprenticeship Week  which starts on Monday and runs from 21-25 May 2012.
Gillian Oddie, HR officer, explains:- "We have noticed, in recent years, that while many students come out with impressive academic knowledge, their practical horticultural skills aren't perhaps as strong. So, we have started our own Modern Apprenticeship programme, with support from Skills Development Scotland and Oatridge College, to address this issue."
Currently, there are three Modern Apprentices working at RBGE, and four more are being recruited this year. Each Modern Apprentice spends time in all sections of the business, including glasshouses, arboriculture and alpine and rock gardens, working with a senior horticulturalist.
"The feedback we have had from the experienced staff has been fantastic," says Gill. "All three are already making their mark on the business – they are definitely valued members of the team."
Rowan Elvin, 19, from Craiglockhart, loves gardening – so he was delighted to be taken on as a Modern Apprentice at RBGE.
"My mum is a garden designer and I have grown up with a love of gardening and planting," he says.
"I enjoy the mix of hands-on training and college work – everyone is very helpful here and you learn a lot by watching the experienced horticulturalists."
John McClelland, Chair of Skills Development Scotland, said: "It has never been more important for businesses across Scotland to grow and develop a skilled workforce. Employers can find out how they can access support to help them to employ apprentices by calling our helpline on 0800 783 6000 or going onto our website."
Modern Apprenticeships are good for business – Scottish Apprenticeship Week May 21-25 2012.