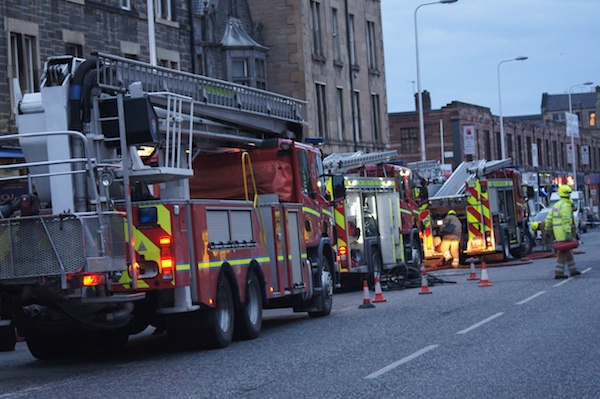 Lothian and Borders Fire and Rescue Service were already in attendance when we got to Leith Walk around 8.30 p.m this evening to witness the aftermath of a fire which has been reported as destroying the pub The Volunteer Arms on the ground floor.  Around fifty firefighters have been battling the blaze in the pub which lies on the corner of Leith Walk and Springfield Street.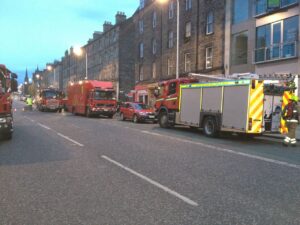 Eye witness Steven Duff said that he had been in his girlfriend's top floor flat just across the street, when he heard the first three fire engines arrive. "That was about five past seven and I went to the windows saw the fire engines and came down to see what was happening. There was smoke coming out of the back door of the pub. There were about 30 vehicles here in the end with all the police, fire engines and ambulances.
"When we first came down they had started smashing the windows of the Volunteer Arms and taking the panels off the bottom. then the smoke started rising upstairs. Everyone had been taken out of the building by about 20 past 7. Then the police arrived put their tape up and told us to shift out of the way."
Lothian and Borders Fire and Rescue Service said :-"The call came in just after 7pm to a fire involving the basement and ground floor of the pub. There are three floors of tenement flats above the pub. At this stage, there are no reported casualties.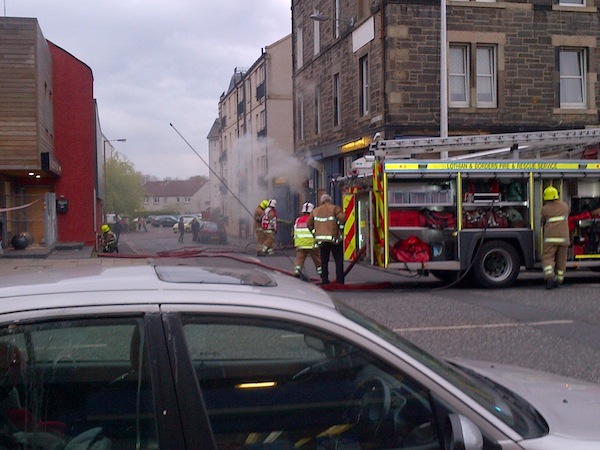 Seven pumping appliances and supporting vehicles including a height appliance were mobilised to the scene and at the height of the fire there were 12 firefighters in breathing apparatus tackling the blaze. Three hose reel jets and two main jets were used.
Crews are now cutting away and dealing with small pockets of fire throughout the building."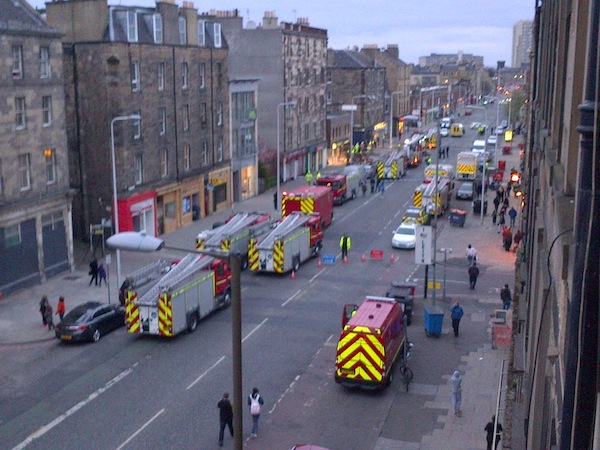 The road was closed to allow firefighting operations to take place and police have been diverting traffic away from the area at the foot of The Walk.
Another witness said that he works in the area doing voluntary work. He said:-"At the start only one fire engine arrived on Leith Walk but eventually there were about 10 fire engines in attendance. They got everyone out of the flats above as far as I could see."