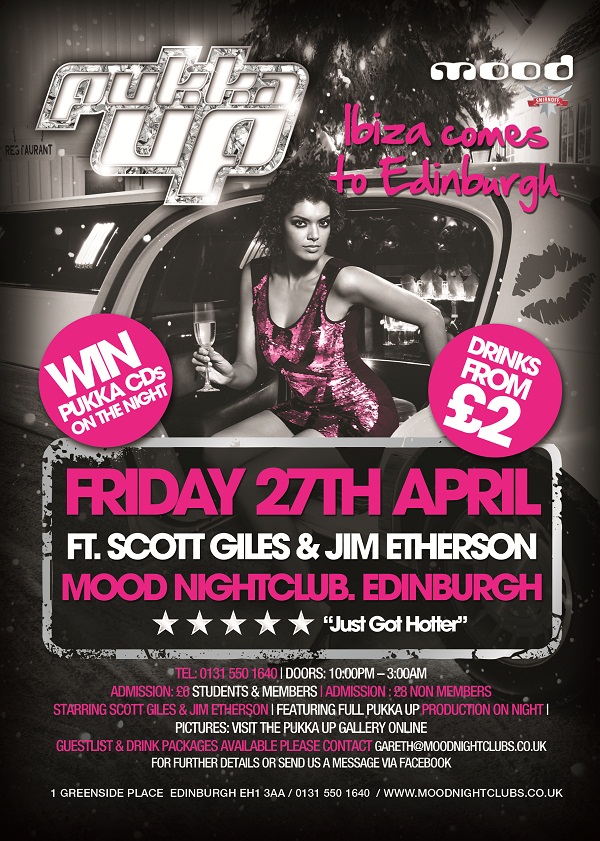 We have a new competition for you to win places on the guest list for Friday 27 April 2012 at Mood Nightclub when Pukka Up will be hosting one of their tour dates before embarking on Ibiza for the season.
The Question is this:- Where will Pukka Up's after parties be in Ibiza this season?
Please email your answer to theedinburghreporter@gmail.com by 20 April 2012 at 12 noon with the words Pukka Up in the subject line.
Over the last eight years Pukka Up has become a club brand synonymous with flirtatious fun and free-spirited clubbing. From one-off boat parties to a global club brand Pukka Up has blossomed into the party that prides itself on being the exciting and fashionable face of 21st century hedonism. Pukka Up is a party that is built on an unrivalled atmosphere thanks to its dedication to crowd interaction. The events create the memories that make Pukka Up the brand clubbers just keep coming back to. With established residencies in some of the biggest clubbing destinations in the world, Pukka Up has become an established international trend-setter from the coastline of Ibiza to the farflung clubs of China or anywhere in between that has a house beat and dancing feet.