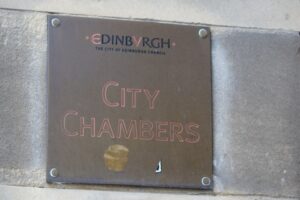 GREENS LAUNCH MANIFESTO TO MAKE CITY 'FIT FOR THE FUTURE'
Edinburgh Greens have launched their local manifesto, which you can read in full below, for the Council elections on 3 May 2012 with a set of ambitious policies for the capital. The party wants to end the culture of the "We know best" Council of recent years, and argues that the City Chambers needs at least one party which is prepared to look to the long term and the big challenges Edinburgh faces.
The Greens predict an increase in their Councillor numbers from three at present to between six and eight. As well as sitting councillors Steve Burgess and Maggie Chapman, its leading candidates include community councillor Melanie Main, seeking to replace Alison Johnstone who is now a Green MSP; and highly-regarded community campaigners Nigel Bagshaw, Chas Booth, Gavin Corbett and Peter McColl.
Among the priorities the party sets are:
– Making Edinburgh fit for the future by backing community scale renewables and ramping up energy efficiency in homes and businesses; making public transport work for everyone and redesigning streets with the needs of all citizens in mind.
– Heralding an Open Council and challenging the "we know best" culture by introducing new rights for people to petition the Council; live webcasts of Council meetings, and handing over more of the budget to community decision-making.
– Protecting what is special about Edinburgh by standing up for public services against privatisation; championing local facilities like Leith Waterworld, and defending and improving our parks and green space.
Launching the manifesto, Councillor Steve Burgess said:
"This is manifesto full of ambitious policies for a fairer, greener Edinburgh. We all know that the city in 20 or 30 years time will look and feel different from now. Greens want to steer this change so that our streets and our homes are fit for the future, while standing up for and protecting what makes Edinburgh so special.
"We think people are fed up with the 'we know best' attitude of the Council and we want to open things up and give more control over local spending to local communities. That's why we'll bring the council into the 21st century with webcasts, e-petitions and community voting on local projects.
"Green councillors have been the source of many fresh ideas in recent years and we will continue to champion bold thinking.  We need a real rethink of street design to bring them alive again and make them safer and more attractive for pedestrians, cyclists and other vehicles. That is why Greens back the proposals by architect Jan Gehl to transform Princes Street as part of a process for the city as a whole."
Councillor Alison Johnstone, now Green MSP for Lothian, added:
"It is clear by now that the Greens are the party to trust on the environment, on waste and pollution and on green spaces.  But Green councillors will work just hard for carers as for cyclists; for schools as well as renewables, for a Living Wage as much as animal welfare.  Yes we want to see all homes insulated, but we will fight just as hard to support tenants battling with shoddy landlords.  We stand for a fairer Edinburgh as well as a greener one."
All candidates for the forthcoming election are listed by Ward on our dedicated Council Election 2012 page with a link to each candidate profile.
Edinburgh Green Party Manifesto 2012 FINAL