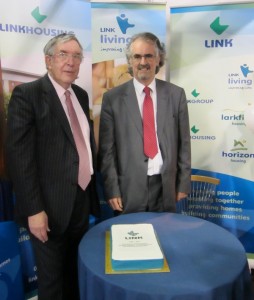 Social landlord organisation, Link, is celebrating its 50th year and needs help in putting a photo archive together
The Link group of charitable registered social landlords, voluntary organisations and social enterprises launched the start of its 50th birthday celebrations at the CIH Scotland exhibition and conference last week.
Link Housing Association Ltd was created shortly after the 1962 Housing (Scotland) Act. The aim was "to carry on the industry, business and trade of providing housing for letting and any associated amenities in Scotland". The name "Link" was chosen because the houses built would help fill the gap between the private and the public sectors.
Link now provides housing, support and regeneration services to 10,000 families and individuals across Scotland's Central belt. Link builds or improves 100 homes each year for rent or low cost home ownership and plans to invest around £98 million to complete nearly 750 new or improved homes within the next five years.
Link Group Chairman, Peter Foreman said: "It is very exciting to be part of Link's 50th birthday celebrations and I am confident that Link will continue to develop further the scope and range of its services which it has evolved to meet the changing needs of the people who use them.

I am also privileged to unveil a new version of Link's logo which will be used over the course of Link's birthday celebrations."
To help celebrate its 50th year, Link is keen to hear from former staff, members or tenants who may be able to help fill the pages of its 2012 Annual Review. The idea is to create a timeline of images showing Link developments and areas it has helped to regenerate over the past 50 years. These photographs will also form the basis of an exhibition to be held at Link's head office in Edinburgh later this year.
If you have any photographs or stories that you would like to be included please send them to Alison Spence, Communications Officer, Link Group, Link House, 2c New Mart Road, EH14 1RL or email aran@linkhaltd.co.uk by 31 May 2012.