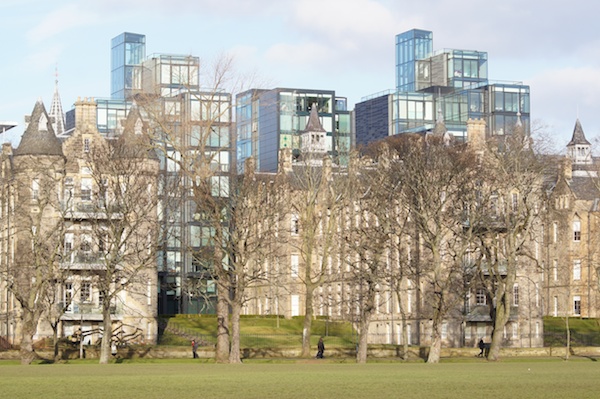 Greener Leith – Volunteer Day today
Edinburgh World Heritage host talk
Alexander McCall Smith on the radio
Friends of the Earth Ceilidh
Active Travel budget cuts
Greener Leith are running the Leith Links Children's Orchard volunteer day today from 10a.m. One of the good ideas they have come up with is the possibility of organising a Good Gym. Based on a similar idea in London it sounds good to us!
***
This week there is a talk being hosted by Edinburgh World Heritage on the subject of Climate Change and World Heritage Cities on Thursday 16 February 2012, 6.00pm – 7.30pm at the Italian Institute of Culture, 82 Nicolson Street. EWH say:-"Whilst there is a need to conserve historic cities, they also show great potential to adapt to climate change, having developed throughout the centuries, often with a dense historic core built using traditional and locally sourced materials.
Edinburgh World Heritage has been working in this area for some time, and the EWH Energy Efficiency Officer Chiara Ronchini was recently invited to present a series of projects at the World Congress of World Heritage Cities in Sintra, Portugal.
This event is an opportunity to hear more about how Edinburgh and other historic cities are meeting the challenge of climate change." Tickets free but booking essential.
***
Edinburgh author, Alexander McCall Smith, featured on Radio 4's One to One programme this week and if you failed to catch it earlier you can listen to it here. 
***
Friends of the Earth are running their annual ceilidh fundraiser tonight so look out your dancing shoes!
The event is run by the Ceilidh Collective and takes place at the Rudolf Steiner School, 60 Spylaw Road, EH10 5 BR, with live music by The Robert Fish Band. There will also be a local and organic bar and a fundraising raffle.
Vicki Bradley, Supporter Development Officer, Friends of the Earth Scotland, said:
"The last couple of years have been sold out for this popular winter event, and we hope to see a full house again this year.
"The money we raise will go to our work campaigning for a fair share of the Earth's resources, and a healthier, cleaner environment for everyone in Scotland and globally."
Ticket are available directly from Friends of the Earth Scotland's website, The Chocolate Tree in Bruntsfield, or from thebooth.co.uk.
***
The Green Party are disappointed that "spending on transport continues to show a massive increase for road-building programmes while funding for projects to make it easier to walk and cycle around our communities is being slashed."
Following the budget produced to Holyrood on Wednesday, Green MSP Patrick Harvie said:-
"These crumbs are of little comfort. Green MSPs made perfectly reasonable calls for the SNP to honour their own manifesto promise to increase investment in the sustainable transport systems Scotland needs. Sadly the SNP are stuck in past, thinking we need to spend billions on new motorways, when they have a historic mandate to show how Scotland can be a beacon of progress."
"It's good they have heeded the calls to support college students. However, today's increase must be set against the huge cuts colleges have seen, two years running, to their teaching grants. At a time when the further education sector is crucial to economic recovery, this remains one of the most reckless aspects of the budget."
Edinburgh cycling blogger, Kim Harding, has posted an open letter to First Minister, Alex Salmond on his 'ubiquitous blog' He points out that many are upset with the government over their proposed cuts to the active travel budget, and suggests that the funding for journeys to be made by foot or bike will be cut by a third. Worth a read!