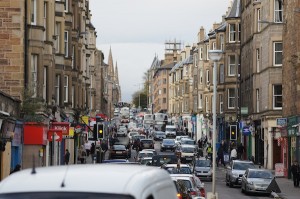 A service is being developed by The City of Edinburgh Council using satellite technology (GPS) to help prevent people with dementia becoming lost in the city.
Two women in the north of the city, both in their seventies, have started using the GPS devices in the past month as part of the Safe Walking service.
The aim of the service is to help clients to access their local communities, reducing the risks of them becoming lost or getting into difficulties. The small electronic devices, either worn on the wrist or carried in pockets, trigger an alert to a call handling centre if the clients go out of the pre-determined geographical area.
This service provides relatives and friends an opportunity to identify where their loved ones are ensuring they are not lost or in difficulty, bringing peace of mind.
Earlier this year the City of Edinburgh Council was the first local authority in Scotland to use the technology to train special needs pupils to travel to school on their own. These initiatives build on previous pioneering Telecare work, which have already enabled hundreds of older people in the Capital remain independent in their own homes.
In addition the University of Edinburgh are carrying out a research study into the Safe Walking pilot to find out more about people's experiences and the benefits of using the devices.
Councillor Paul Edie, Health and Social Care and Housing Leader for Edinburgh, said: "The families of the older people using the devices have told us about the dramatic differences that are having in their daily lives. They have a greater peace of mind knowing that their loved one is safe whether it's in their own home or being out and about in the local area.
"We used this technology to help pupils at special schools travel independently to school and using these devices to help those with dementia is a natural progression.
"This Council has really embraced this new technology, which is transforming people's lives and making a real difference to them. There are hundreds of older people living safely and independently in their homes thanks to Telecare."
Alister McDonald, Depute Chief Executive of Bield which runs the call centre – Bield Response 24, said: "This new technology can give a new sense of freedom to people with dementia and reassurance to their families. We are delighted to be working in partnership with the City of Edinburgh Council to provide this innovative service and hope it will not be too long before other councils follow Edinburgh's lead."
Dr Heather Milne of the University of Edinburgh, a researcher involved in the study, said: "Current service users and their carers are providing us with vital information on the acceptability of the technology, and how using it affects their lives. We will feed this information back directly to the Council to help them develop their service, and use it to inform future research in this area."
A 78-year-old woman from North Edinburgh has had dementia for the past two years.
Her daughter said: "Many people think that when dementia affects someone they have to go into a care home, that's not the case. This system gives people a bit of extra time with their families and has the extra built in safety precaution.
"I have more security because I know exactly where my mum is in the safe zone. When she comes to visit I can see that she's at the bus stop and know where she is so the kettle can be on for her coming through the front door. If she goes out of the safe zone then I am alerted by the contact centre and can find her."