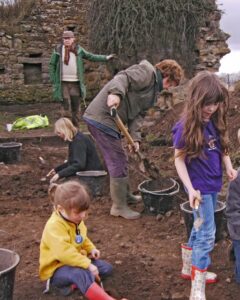 Scottish Archaeology Month is a month-long festival of free archaeological events that take place across Scotland throughout September. Over the month over 1500 events will be run by museums, councils, universities and archaeologists that will give the public to opportunity to explore Scotland's fascinating history.
The event is coordinated by Dr Mags McCartney who says 'SAM just keeps on growing! This year we're delighted to announce a number of events across Edinburgh and the Lothians'
Activities in the Edinburgh area include tours of ancient stone circles and WW2 sites, glimpses behind the scenes at museums, activities at castles and excavations. There will be fun days, re-enactments, exhibitions and open days as well as a schools programme.
Events include the following, more events including tours and activities at The National Museum of Scotland can be found on the website.
– Saturday 3rd September 10am – 4pm drop into Haddington Town House for Heritage Festival, a celebration of local history and archaeology. There will be exhibitions, short talks by local experts, films, treasure hunt, hands on activities and story-telling about East Lothian's past.
– Saturday 10th September 3pm enjoy a guided tour with Douglas Man at Arms and hear stories of sieges and battles at Tantallon Castle.
 – Saturday 17th September 1.30pm – 4pm discover Leith's Murky Medieval Past during an afternoon of games, activities and displays at The Mackenzie Hall.
– Saturday 1st October 9am-12pm head to Holyrood Park Education Centre and join a ranger on a guided walk to explore the park's medieval and modern archaeology.
Events are suitable for all ages and abilities and are all free.
You can find the full SAM programme online at www.scottisharchaeologymonth.org.uk, the programme will be updated through the summer so keep checking the website!
Scottish Archaeology Month is co-ordinated with the support of Historic Scotland and together with Doors Open Days is part of European Heritage Days.
For more information on how to get involved or to book your place, contact Dr Mags McCartney
email: m.mccartney@archaeologyscotland.org.uk or call: 0845 872 3333
Archaeology Scotland, Suite 1a, Stuart House, Eskmills Industrial Estate, Musselburgh.
Photos courtesy of National Trust for Scotland