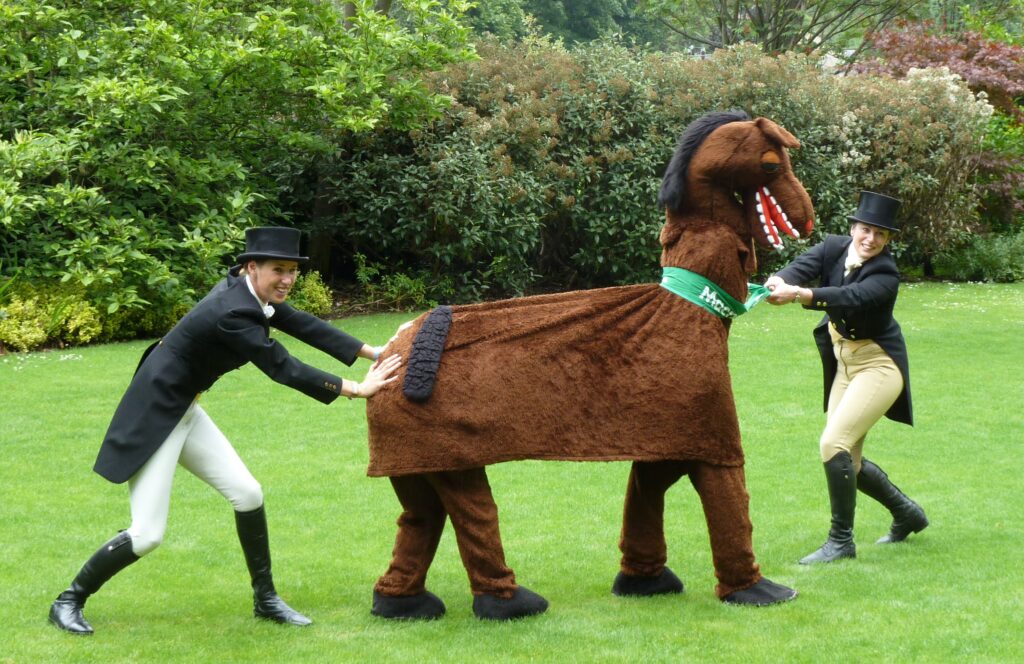 Louisa Milne Home and Nicky Roncoroni, two of Scotland's top international horse riders, are preparing for a prestigious content – on a panto horse. They will be taking part in the The Gillespie Macandrew Hopetoun International Horse Trials, but had some fun in Edinburgh's Princes Street Gardens ahead of the event.
The horse trials, which will raise money for Macmillan Cancer Support, are expected to attract thousands of spectators as well as some Olympic horse eventing hopefuls.
Louisa, 31, said:- "Macmillan is a great charity and I am delighted to be involved in raising awareness of its work. Very few people have not been touched by cancer in some way and the support Macmillan provides is vitally important.
"The Hopetoun House International Horse Trials will be a great event and I hope it generates both money and awareness for Macmillan."
This is the first year of the Gillespie Macandrew Hopetoun International Horse Trials which will take place over July 30 and 31.
Pamela Williamson, Macmillan's fundraising manager in Edinburgh, added: -"We are delighted to be named as the charity partner of the Gillespie Macandrew Hopetoun International Horse Trials and hope the event will be a great success.
"It's the first event of its kind to be held in Edinburgh and Macmillan will be very visible throughout the weekend and hope to be involved in making the event a real success."
The money raised from the event will help Macmillan fund vital services for people affected by cancer including specialist nurses, benefits advice and grants for cancer patients with money worries. Tickets for the horse trials are now available.