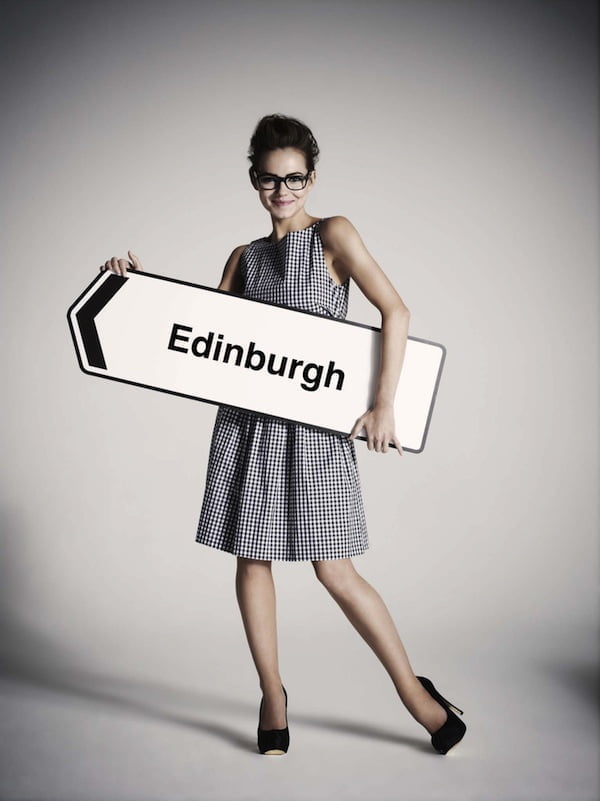 Aspiring models could get their big break this Saturday when model scouts take to the streets of Edinburgh to try and find the next Spectacle Wearer of the Year 2011.
Specsavers
recently launched the UK-wide search in conjunction with Strictly Come Dancing winner, actress Kara Tointon (pictured).
Now the opticians' Edinburgh stores have joined forces to take to the streets and prove Scotland's capital is bursting with potential winners.
The following Specsavers branches will be sending their staff out to 'model scout' in the areas around their stores this Saturday: Morningside, Shandwick Place and Leith.
On behalf of the Edinburgh stores, Michael O'Kane from Specsavers Morningside, said: "We want to prove that the capital's spec wearers have more specs appeal than anybody else!  We will be out in force on Saturday to find as many potential entrants as possible and will be keeping our fingers crossed that this year's winner is from Edinburgh."
If you are lucky enough to be selected by one of the team, you will be asked to pose for a photograph and fill out an entry form to be in with a chance of winning.
Every year, Specsavers scours the UK to find the girls and boys next door who look amazing in their specs. The competition is open to men and women aged 16 and over, who are current specs wearers or wear glasses for fashion purposes.
Specsavers will donate £1 for every eligible competition entry to anti-bullying charity Kidscape, as well as all proceeds from a high profile auction led by Specsavers ambassador Gok Wan, which will take place at the competition final in London in November.
One Edinburgh specs wearer could follow in the footsteps of Emma Lee MacFarlane, from Uddingston who represented Scotland in last year's glitzy grand final in London. Regional finalists will be announced in August and the grand final will be held in London in November.
The winner will scoop a one year modelling contract with top London agency MOT Models, a two week premier, all-inclusive holiday for two in Barbados or St Lucia courtesy of Virgin Holidays and Almond Resorts with £250 worth of spending money, a makeover with TV celebrity hairdresser Andrew Barton, a year's supply of skincare products from Simple, a fantastic goody bag including hair and skincare products, a £150 Specsavers eyecare voucher and the coveted Spectacle Wearer of the Year trophy.
If you don't spot any of the Edinburgh team out on the streets this Saturday, don't worry. Entries can be made by visiting any Specsavers store or by logging on to
their website
or check out
the special
Facebook site. The closing date for entries is Saturday 30 July 2011.