by Dave Pickering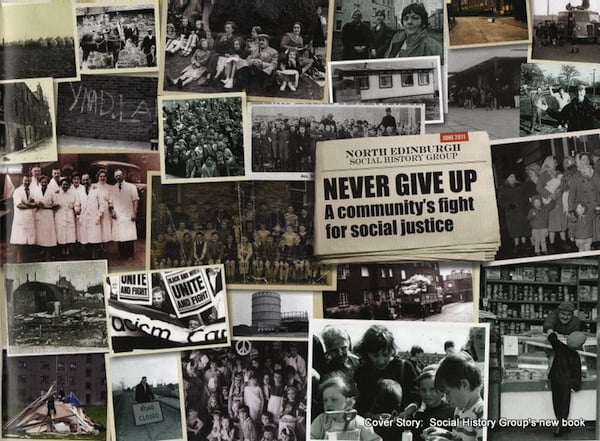 For some, the names Muirhouse, Drylaw and Pilton conjure up images of run-down housing schemes, drugs and violence but a group of local people are showing there's a far more positive story to be told about life in North Edinburgh with the publication of a new book and accompanying DVD.  'Never Give Up – A community's fight for social justice' took over two years to produce and highlights the campaigns and celebrates the achievements of community activists in North Edinburgh since the housing estates were built in the 1930s.  The book and DVD, alongside a photo exhibition, were launched at North Edinburgh Arts Centre in Pennywell last night.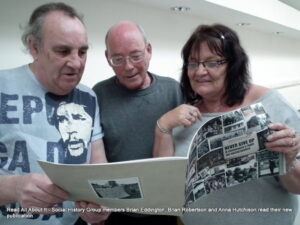 The project has been a real labour of love for the members of North Edinburgh Social History Group, who have been meeting weekly in Granton's Prentice Centre since December 2008.  Over the months the group – Roberta Blaikie, Brian Eddington, Anna Hutchison, Ian Moore and Brian Robertson – sifted through thirty years of back copies of local community newspaper North Edinburgh News – which folded in March this year – and researched a wide range of other archive materials to build up their story.  The group – all volunteers – also interviewed over twenty local people to record their recollections of the campaigns and events that have shaped North Edinburgh's history.
The result – a beautifully illustrated 52 page publication which documents the struggle of local working class people over seventy years – was unveiled at a celebratory launch event at North Edinburgh Arts Centre last night.  Around 100 guests – many of whom feature in the book and accompanying DVD – attended the launch, which was introduced by former Pilton councillor, Edinburgh District Council leader and Craigroyston High School teacher Alex Wood, who wrote the foreword for the book.
Welcoming the publication of the book, Alex Wood said:  "This has been a hugely important exercise and the group has produced an enormously important piece of historical research.  This is a great example of working class people telling their area's story – it shows to all that our communities have a proud history and as they have a history they will have a future".
The project was supported by the respected international Community Development Journal following an approach by Edinburgh University's Mae Shaw.  She told the meeting:  "This book, and the DVD, are tremendously important and a deeply moving record of the struggles of working people to have a voice in their communities.  The book will be reviewed by the Community Development Journal and I am sure that it will become a valuable educational resource not just in this country but across the world".
Roberta Blaikie, an enthusiastic member of the social history group, explained:- "We first got together because we thought it was important to record the history of activism in the area because this has not been documented anywhere else.  During the course of our research more funding cuts made it even more important to create a record, as valued projects that are an important part of our area's history were being slashed and some, like NEN, forced to close down.  It's been a fascinating project – going from the TB campaign, damp housing and rent rise protests right up to the present day Fairer Scotland Fund cuts – and we've learned an awful lot along the way.   I think we really need to remind ourselves how capable we are as a community – we are organisers, campaigners and people with knowledge, experience and skills.  In the past we had the confidence to take on the establishment when we were unhappy about things – and we can do that again!"
Community Learning and Development (CLD) worker Lynn McCabe, who has supported the Social History Group throughout the process, said:  "I don't think any of us knew the size of the task we were taking on when we set out all those months ago.  The project has just grown and grown and while we've had our setbacks it really has been an incredible experience for everyone involved – there was so much enthusiasm.  The launch of the book and video is an opportunity to celebrate the achievements of the many ordinary people – past and present – who have done so much to make North Edinburgh a better place to live.  It's a proud story and the group has told that story very well".
The book is now being distributed to projects and schools in the area and copies of the  DVD will be available soon.  The group also plans to make their considerable research archive available free to all through the creation of a website – currently under development – in the near future.
Meanwhile, 'Never Give Up' may be written but the story – and the fight – goes on.  At the launch event local campaigner Willie Black announced the formation of North Edinburgh Fights Back, a new grass-roots community organisation which aims to tackle cuts being imposed on the area, while North Edinburgh Arts' drama worker Stephanie Knight invited people to sign up to workshops for a new community drama based around the theme of community activism, due to launch in September. It's clear we are far from reaching the end of North Edinburgh's story, and local activists won't be 'giving up' any time soon!