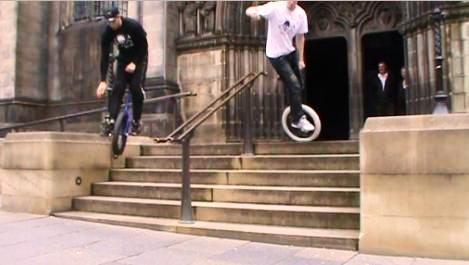 A team of 12 unicyclists, led by Edinburgh native Jason Auld, are preparing to attempt a world record of unicycling for 24 consecutive hours in aid of children's charity Unicef.
The event will take place next to the National Gallery of Scotland on Princes Street from 12pm on July 30 to 12pm on July 31.
A tailor made display rig featuring stunt obstacles will be used and the elite team will be showcasing street, trial and flatland skills. A rotation will be used with a minimum of four riders on the course at one time. Their team, Voodoo Unicycles, consists of six of their own boys and another six of Britain's top unicyclists.
Jason Auld, a professional unicyclist and the Edinburgh team manager, has been involved with the sport for nine years and is the current and two-time British Street Unicycling Champion. He said: "Because we're doing this entirely in aid of Unicef, we're hoping to gain sponsorship from local businesses in order to supply the lighting, run a generator and transport our materials and our riders. In return, we'll be sticking up banners showing the public who our benefactors are and thanking them for their financial support publicly."
Unicycling isn't currently a mainstream sport like BMX or skateboarding so as well as being a charity event, the team are hoping to raise awareness of the sport.  Jason said: "It is a lot more demanding in the formal stages when you're learning it. You need a lot of patience because it gets frustrating. You need to be tenacious. In fact schools in Japan teach kids how to unicycle because it teaches them to work harder and be more patient."
So what's next for the team after July?
"We've got a few things in our head that we want to try but now that we're raising a bit of money for charity I think it would be really good if we could do something like this annually," said Jason.
"We want to do bigger stunts, hold bigger events and we want to get people's attention and show them what we can do. There definitely will be more stuff to come. What that will be, who knows! You'll have to keep an eye out."
Our own Samantha Taylor went along to see Jason and fellow unicyclist Iain Schofield preparing for the event at several locations across Edinburgh. Have a look at our video below for  taster of what's to come next month.
For more information on the boys, the event and extreme unicycling visit www.voodoounicycles.com.