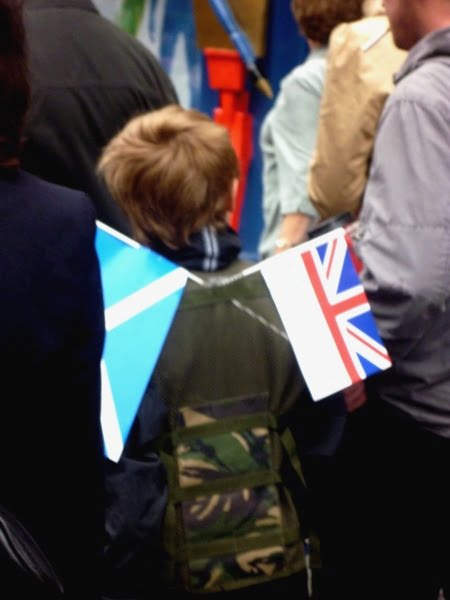 Thousands of people descended upon Edinburgh today to celebrate the third annual Armed Forces Day.
The Capital led the UK-wide celebrations and it is estimated that 100,000 people will have watched the full three days of events which draws to a close tomorrow.
First Minister Alex Salmond said: "This weekend's Armed Forces Day celebrations have been a fitting recognition of the contribution made by our service personnel and veterans. The events in Edinburgh have been enjoyed by thousands and I've been privileged to be among them.
"Scotland's armed forces and veterans are valued members of our communities and this has been a welcome chance to say thank you to them. Edinburgh has been a wonderful focus of the nationwide celebrations and, like me,  I'm sure the thousands of people who have lined the streets here have been grateful for the chance to show our military men and women how much we appreciate their service."
The Rt Hon George Grubb, Lord Provost of the City of Edinburgh, said: "This weekend has been very special and I'm delighted that the people of Edinburgh came out in such large numbers to show their support to our Armed Forces.
"I am sure the Red Arrows display over the Firth of Forth last night and today's parade down the Royal Mile by up to 2,500 service personnel, veterans and cadets will live long in the memory for everyone who was there."
Council Leader Jenny Dawe said: "Edinburgh has once again enhanced its reputation as a city famous for putting on large scale events. I'm really pleased that all the hard work by the Council, its partners and sponsors has resulted in this weekend being such a success."
Yesterday's highlights included a spectacular 24 minute display by the Red Arrows over the Firth of Forth, tours of type 23 frigate HMS Portland, water-borne displays and marching military bands.
Today saw up to 2,500 service personnel, veterans and cadets, marching down the Royal Mile with His Royal Highness the Duke of Rothesay taking the salute, a poignant Drumhead Service, a Battle of Britain Memorial Flight and a packed afternoon of events and entertainment in Holyrood Park.
Dignitaries who attended today's events in Edinburgh included Their Royal Highnesses The Duke and Duchess of Rothesay, Prime Minister, First Minister, Defence Secretary, Scottish Secretary, Presiding Officer, Chief of the Defence Staff, President of Royal British Legion Scotland and Armed Forces champion Lorraine Kelly.