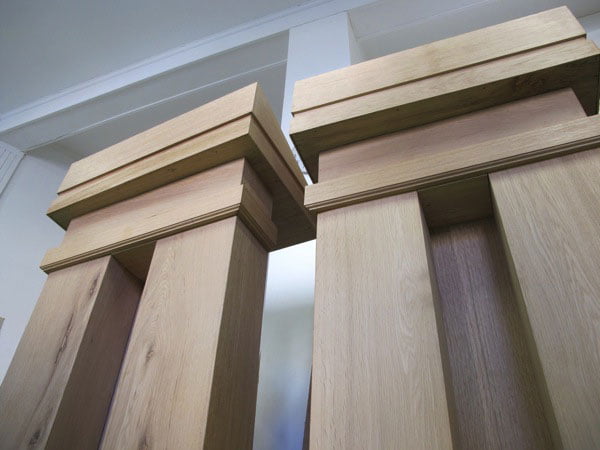 A major commission from the Moderator of the Church of Scotland has given a huge boost to one of Edinburgh's social enterprise success stories. They have been requested to make two lecterns and a table for the head of the church by the end of April.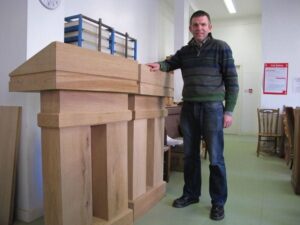 Tommy Steel, workshop manager of the Greyfriars Recycling of Wood Project (GROW) told us:- "The 27th of April 2011  is firmly set in my mind as the delivery date for this important contract.   This is much bigger than anything we have previously done. It is a very prestigious commission.  We have a great team spirit here and the anticipation of getting the project when they first approached us, was exciting enough in itself. While we are doing this project though we still have other orders coming in, so we now have work till the end of this year."
Principal Clerk to the Church of Scotland, Reverend John Chalmers, is also enthusiastic about the deal. He said:-"It seems appropriate that we should be using church timber to create the new furniture for the Assembly Hall. The recycling aspect is good in itself.
But the project also helps people, and the fact that we are able to support it in this way and contribute to people getting their skills and their place in life back is the best of all worlds for us."
Too often these days we hear about organisations complaining about lack of funding or the complete removal of funding as a result of budget cuts at local and national government  levels. GROW is not among those. After our meeting with  Steel who runs the project, we found ourselves just about as enthusiastic as he is! The best thing about the GROW project is that it is real recycling with a purpose. It is a part of the Grassmarket Community Project which has a wide variety of projects on the go. Their website tells us:-"These projects will give men and women who feel they have nothing to contribute the opportunity to gain self-worth and purpose, working together to make a difference for themselves and their community. Putting dignity back into their lives."
Steel told us:-"We go all over Scotland collecting church pews for recycling. Churches may close, or they may reorganise their seating by removing pews so that they then have more adaptable seating arrangements. We use the wood from these pews in our work here.
We always have a range of gift items such as candle holders, chopping boards and wooden pens available. These items can be resold to anyone but especially to the church congregation – they love the fact that they are buying a piece of their own church history.
But our biggest bread and butter produce is furniture. We make a lot of different things, and often it is for churches.
"The project is run as a social enterprise, so the double bottom line that we are trying to achieve here is working with people who face issues about deep social exclusion – the homeless, addicts, that kind of thing. We are here to enhance people's lives but we also run it as a business.
We have 3 years funding – and this is our second year – The Lankelly Chase Foundation gave us 3 years' funding. We got a lot of money last year with low achievable sales targets, but this year the funding dropped and our sales targets went up quite considerably.We will have no funding in the fourth year and we should by then be self-funding!"
The furniture commissioned by the Moderator is to be made from oak, and according to Steel there are not so many oak pews around Many pews are made from piranha pine, beech and douglas fir.
Steel explained:-"We have a huge store in Perthshire, but we were not sure that even there we would have some oak available.   Then, out of the blue, we got a phone call from a church in Tranent which was full of oak and they wanted us to take it. Somebody was looking down on us!"
The GROW project appears to be a financial success. Steel said:-"Last year we turned over £6000 and it went up to £25000 this year and next year it should be £35,000.
The people working here are all volunteers. It's my job to create a welcoming atmosphere that people want to come to. On Tuesday Wednesday and Thursday we have a furniture making team of guys and girls. I teach them what to do. My background is that I was a joiner, and at one point I decided to change careers. So it was quite a nice time of my life as I had a blank sheet in front of me. I then decided to study social care and worked in that sphere for a couple of years.
Four or five years ago I then met Richard Fraser, the minister at Greyfriars Church. He told me he had been collecting a load of old pews for a number of years. He asked if I would pilot a little project to use them in some way.   We did bird boxes but then found that the birds were nesting in complete luxury!  We felt we had to move on from that and so now we make furniture. We have a beautiful building now with a state of the art workshop.
From the portakabin beginnings we moved in to a building owned by Heriot's just next door to where we are now. The lease then came to an end, and this building was one of three adjacent buildings which were derelict and were about to be demolished.
However they saved this lovely building for us. They spent a lot of money on it and we are staying here. The new building for the Grassmarket Community Project will be an extension of this building here, and we will have an interlinking door.
This is not just about woodwork. For example, geometry and arithmetic are all used daily too. We teach people transferable skills and this place allows them to participate in their own community in their own way. It is about accepting people. I have a team of volunteers who are so motivated, much more so than in some places where people are getting paid for it! We have no problems with motivation!"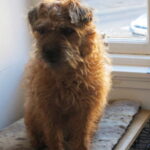 And having met with Mr Steel (and his four-legged friend, Brillo) we can see why. If you are interested in the project or buying anything from the workshop then contact Tommy Steel by email.