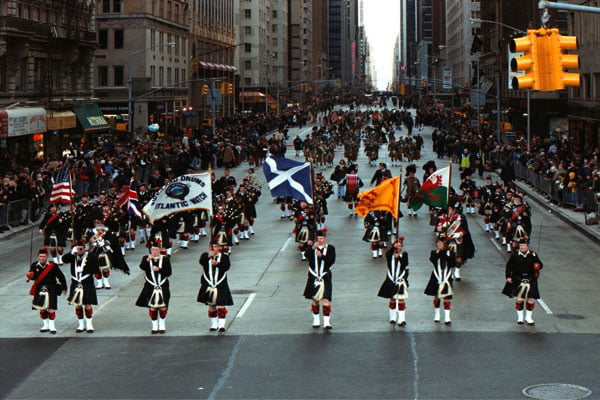 The National Tartan Day New York Committee invites all New Yorkers to join in celebrating the 13th Annual Tartan Week, from April 3nd to 10th 2011. There will no doubt be a number of Scots there too.
There are diverse events throughout the week, ranging from the Dressed to Kilt fashion extravaganza to Whisky Live, to the Pre-Parade Ceilidh, and the popular New York Tartan Day Parade on the Saturday – there are events for all.
On Saturday April 9th, the day begins at 10am with the Kirkin' o' the Tartan, a Scottish-American non-denominational church service which includes the blessing of tartan flags. The thrilling sound of bagpipes brings the 13th Annual Tartan Day Parade to the Avenue of the Americas  (6th Avenue) at 2pm.  The Grand Marshal will lead the parade from 45th Street to 55th Street.
Thousands of pipers, drummers, and members of Scottish clans and societies, are joined by the biggest pack of wee Scotties and Westies in any parade.  New York will be awash in tartan and kilts as Scottish Americans celebrate their heritage and friendship.
To learn more about all the events or how you too can join in have a look at this website
here
.
Are you taking part? Would you like to tell us about it, or send us photos and reports when you are there? Get in touch!
theedinburghreporter@gmail.com