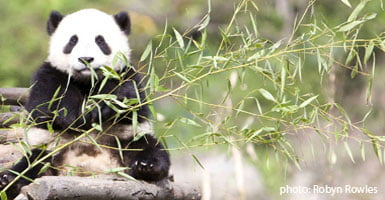 As long ago as May 2008, the Royal Zoological Society of Scotland (RZSS), which owns Edinburgh Zoo and Highland Wildlife Park, announced their intention to bring a breeding pair of giant pandas to Scotland. Now it seems that dream may become a reality.
An historic agreement was signed today which will bring two giant pandas to Edinburgh Zoo, the first giant pandas to reside in the UK for 17 years.  Witnessed by Deputy Prime Minister, Nick Clegg, and Vice Premier of China, Li Keqiang, the agreement was signed at Lancaster House in London by Donald Emslie, chairman of the Royal Zoological Society of Scotland (RZSS), which owns Edinburgh Zoo, and the Chinese Wildlife Conservation Association (CWCA)
The giant pandas, Tian Tian and Yangguang, a breeding pair born in 2003, will be under the custodianship of RZSS at Edinburgh Zoo, a world leader in animal conservation.  The project represents the culmination of five years of political and diplomatic negotiation at the highest level and it is anticipated the giant pandas will arrive in their new home as soon as a date is agreed.
Speaking about the gift, chief executive officer of RZSS, David Windmill, comments: "This is a landmark day for RZSS, Edinburgh Zoo, the UK and China.  It represents the beginning of a programme of research, education and partnership and the project has huge benefit for the UK and Scotland, both in supporting giant panda conservation and in enhancing our programmes in education, science and conservation."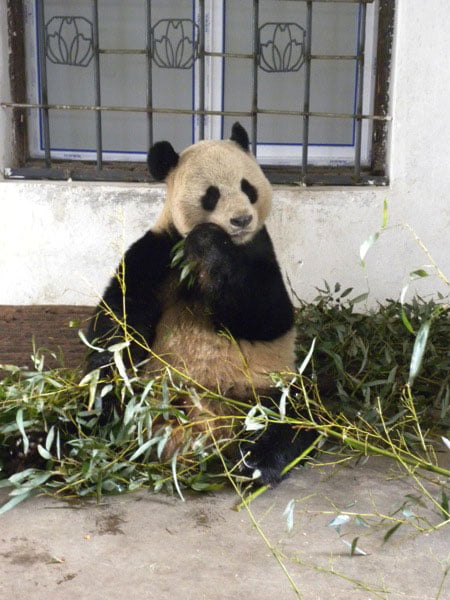 His Excellency Mr Liu Xiaoming, Ambassador of China to the UK said: "Pandas are a Chinese national treasure. This historical agreement is a gift to the people of the UK from China. It will represent an important symbol of our friendship and will bring our two people closer together."
Speaking about the arrangements for the giant pandas, director of animals, conservation and education, Iain Valentine, comments: "This marks the start of a long relationship with CWCA in which we hope to bring the expertise that exists with RZSS and within the UK to the conservation efforts of the captive and wild populations of giant pandas. These wonderful animals will be housed in a specially refurbished enclosure which was formerly home to our gorillas.  The enclosure will offer a good mix of comfort and visibility so the public can see the couple as they settle into their new home.  We are looking forward to welcoming a delegation from the CWCA to Edinburgh later this week to view the Zoo and discuss our plans in detail."
Welcoming the announcement, Culture and External Affairs Minister Fiona Hyslop said: "Edinburgh Zoo has a world-leading reputation for animal conservation and I am delighted that Scotland has been chosen to take part in China's breeding programme for giant pandas.
"The agreement gives Scotland an important role in securing the future of this endangered species. As well as supporting China's work to protect these animals, the arrival of the pandas is expected to bring significant economic benefits for Scotland in terms of tourism, attracting hundreds of thousands of additional visitors to the zoo. Edinburgh Zoo has demonstrated that it has world-class expertise to breed and care for these rare animals and this announcement reflects our continuing work to strengthen the cultural, educational and economic links between Scotland and China."
The RZSS worked in close partnership with the UK, Chinese and Scottish Governments, the CWCA and Wolong Panda Breeding Centre in Sichuan Province to facilitate this project and provide mutual support.  The Giant Panda Project will be funded through sponsorship, offering unparalleled opportunities in terms of international corporate, commercial and diplomatic relationships between China and the UK.
National Museums Scotland also remind us that they have their own panda Ching Ching which will be housed in the new Life Works gallery when the museum reopens this summer.
The Reporter was in Washington last February when the beloved panda Tai Shan was being shipped back to China for breeding. This was not only front page news, there was a live news bulletin on TV to allow Washingtonians to say goodbye to their dearly loved panda. The Washington Post reports that:-"China owns and leases all giant pandas in U.S. zoos." It can therefore request their return at any time. The fact is that no matter what you think about keeping animals in zoos or breeding in captivity there is an economic angle here which is that the zoo in Edinburgh is reported to be struggling financially and the arrival of two giant pandas would be a great boost to their visitor numbers.  But we do not really want to lead the debate about the correctness of keeping animals in zoos – so over to you. What do you think? Should we be applauding the imminent arrival of the two pandas? Or is it a mistake to keep animals such as these in captivity?
Earlier news about pandas:-
12 May 2008:-The Royal Zoological Society of Scotland (RZSS) announced today that it has been working with officials in China to bring a breeding pair of giant pandas to Edinburgh Zoo. If successful, Edinburgh would be only the 8th zoo in the Western hemisphere to care for this enigmatic and endangered species. It has been proposed that the pair will be on loan to RZSS for 10 years, in which time they would hopefully give birth to cubs.
Zoo representatives visited China recently with a view to establishing a closer relationship with the Chinese in the field of conservation and associated research. It was during this visit that a Letter of Intent was signed by both parties. This document signifies an initial commitment to bring giant pandas to Edinburgh Zoo.
The population of giant pandas in the wild is currently around 1500. While this is still far too low, the population is being sustained due to research being carried out by selected zoos across the world. At the Wolong Research Centre, a reserve for giant pandas in the Sichuan Province, the success rate of their breeding programme has improved significantly following various research programmes carried out by zoos. As part of an eventual formal agreement with the Chinese Government, Edinburgh Zoo will collaborate on research projects benefiting conservation in the wild. In addition to sharing research with Chinese conservationists, RZSS will also be providing substantial funding to support giant panda conservation projects in the wild.
David Windmill, Chief Executive of RZSS, said:-"Working with giant pandas means so much more to us than introducing a new species to our collection. It is an opportunity to work on a global level with other conservationists to gain a better understanding of the giant panda, the threats they face, and what we can do to ensure their survival.
We have been working on this for nearly a year and, having just returned from China, we are now in the position where we can publicly announce our intention to care for giant pandas. We hope to have giant pandas in Edinburgh Zoo in the near future. However, this will be a long process and there are still many details to be ironed out. We have received strong support from both UK and Scottish Governments for this initiative. It is essential this continues if we are to reach agreement with the Chinese."
3 June 2008:
A giant panda reserve in the Sichuan Province in China was left devastated following the earthquake on May 12. The Wolong Nature Reserve is the largest giant panda reserve in China, caring for over 60 pandas. It holds around 10% of the total giant panda population and 50% of the total population in captivity. The most recent reports state that five members of staff died, with many others injured. Two of the giant pandas are missing but the remaining population at Wolong remains under severe threat from aftershocks and landslides. The extent to which the earthquake affected the giant panda population in the wild is still unknown.
The Wolong Nature Reserve works in partnership with conservation organisations and charities across the world to help sustain and expand the giant panda population. Recently, two members of staff from the Royal Zoological Society of Scotland (RZSS) visited the reserve and signed a Letter of Intent with Chinese officials, which paves the way for joint collaboration on a range of giant panda conservation projects. RZSS, who were the first international zoological society to respond to the crisis, is currently looking at ways to assist those in Wolong and have already taken steps to help.
Iain Valentine, Head of Animals, Conservation & Education for RZSS, which owns Edinburgh Zoo said:
"The Wolong Nature Reserve has been left absolutely devastated. We're very concerned for our friends and colleagues in Wolong as the area is still unstable. The National Park, as well as housing the Panda Conservation and Research Centre, is home to many people who live and work within the area. We are concerned for the welfare of the people, of the pandas kept in the centre and the wild panda population living within the reserve.
As an initial response we have donated £10,000 to help with the immediate needs of the area and will form part of the disaster relief fund set up by the China Wildlife Conservation Association, who look after all of the Panda reserves and centres in Sichuan Province. I have also contacted other zoos across the world, who currently have giant pandas on loan, to try and co-ordinate our efforts so that as much help reaches Wolong as possible. We have also sent out communication equipment such as satellite phones and we are investigating other possibilities such as offering to send people over to China to help."