So here we go again – lots of snow overnight last night and many people stuck in their homes. The Forth Road Bridge was closed today and the airport may or may not be opening at 6pm.
We will again update this page as we collect the local news together. If you know of any other news then please email us on theedinburghreporter@gmail.com or add it to the bottom of this article as a comment.
Photo of the day – what do you call a group of Traffic Attendants…?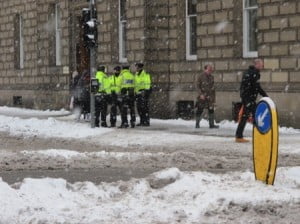 Council workers are out in force to help get Edinburgh moving again.
The city has seen the worst snowfall since 1963 and staff have been out in all weather conditions to help clear snow from pavements and roads.
Taskforce staff which includes street cleaning and gardeners have been drafted in, along with refuse collection staff to help with the snow clearing efforts.
Road staff have also been out in force, gritting the main priority routes and making sure ambulance drivers, emergency vehicles and funeral cars have access to city streets.
Despite the bad weather, teachers have also pulled out all the stops to get to school – with an 80% attendance rate. And in the schools that have opened between 30% and 60% of pupils have made it into school.
Since the weekend, contractors have also been drafted in with JCB vehicles, supplementing the 75 road staff, 180 task force staff and 90 refuse staff already re-organised to boost efforts to keep the road network open.
Councillor Robert Aldridge, Environmental Leader, said:
"The city has experienced some of the heaviest snow to hit us in a number of years and I would like to send out a 'big thanks' to all staff who have been working flat out to help keep Edinburgh moving. It is inevitable that it is going to take some time to clear residential streets and I want to thank everyone for their patience.
"The public and local can also do their bit to help clear drives, pathways and pavements and to keep a look out for their elderly neighbours. Local businesses can also do their bit by helping to keep doorways clear from snow. Residents can also contact Social Care Direct on 200 2324 if they are worried about vulnerable people who need extra help."
City residents can also help to clear snow in local communities. Concerns were raised last year that if someone was to slip after snow had been cleared by a member of the public, the person who cleared the snow could be liable for damages. This is not the case, as anyone clearing snow is attempting to make the area safer for neighbours.
Waste Collection
Bin lorries have been operating a limited service, mainly in the city centre and main roads. However, refuse workers have been helping with snow clearing. For an update on refuse collections please see our severe weather pages: severe weather pages
Roads
Staff are working round the clock to keep the city's main roads clear.
Extra staff have been allocated to work on snow clearing. However, workers are experiencing difficulties with the exceptional levels of snow on roads and pavements as well as obstacles such as abandoned cars. Mechanical plant i.e. JCBs are being used to excavate and remove snow to gain access to many of these routes.
The Council has used over 2,000 tonnes of salt between 25 November and 1 December. Supplies were standing at around 5,000 tonnes, this morning.
Health and Care Services
There is no transport to any Council-owned or voluntary day centres for the rest of the week due to the risk it may pose to service users. However, staff are reporting to work and are contacting all service users and families. Staff will be assessing whether vulnerable adults and older people require any additional assistance and are taking appropriate action.
All social work centres and our home care and re-ablement staff are reprioritising case loads to ensure emergency cases are covered such as meals and personal care.
Anyone who is concerned about someone who they feel should be getting assistance can contact the social care direct team at the Council on 0131 200 2324, and staff there will arrange appropriate follow up. In the evenings and weekend contact can be made with the out of hours service at 0800 731 6969.
A local 4 x 4 charity (Lothian 4×4 Response) are providing two vehicles with drivers to take home care staff to visit vulnerable and older people including getting any shopping needed.
Here is the news about schools:- While only some schools are open for pupils on Thursday, all schools are open for staff who should report to work. If staff cannot report to their usual place of work then they should go to the nearest City of Edinburgh Council school. Staff should not go to Prestonfield Primary.
With colder temperatures and more snow expected, the situation remains changeable so parents are urged to continue checking the Council's website and Radio Forth for updates.
Secondary Schools
Leith Academy will be open for all pupils (S1-S6). All other secondary schools will be open for 4th-6th year pupils on Thursday.
Note change – Queensferry High will be open on Thursday for S4-S6.
Earlier today it was thought that Currie & Balerno High schools would have to close and a message to that effect was issued from the schools.  We can confirm now that both schools will be open to S4-S6 pupils tomorrow.
Some Balerno High School pupils could not attend on Wednesday because of transport issues – all S4-S6 should attend tomorrow.
School meals are available
There are 23 secondary schools in total.
Primary Schools
The following 30 (of 87) primary schools will be open on Thursday:
Balgreen
Broomhouse
Broughton
Bruntsfield
Corstorphine
Craigentinny (Nursery closed)
Craiglockhart
Dalry
Flora Stevenson
Forthview
Granton
Gylemuir (Nursery closed)
Hermitage Park
James Gillespies (Nursery closed)
Leith     (Nursery closed)
Leith Walk (Nursery closed)
Lorne
Murrayburn (Nursery closed, language classes closed)
Preston Street
Roseburn (Nursery closed)
Sciennes
Sighthill (Nursery closed)
St Mary's RC – Edin
St Mary's RC – Leith
Stockbridge
Tollcross
Towerbank
Trinity
Victoria
Wardie
School meals are available for all primaries except Leith Walk Primary – pupils there should bring a packed lunch
The rest will remain closed
All special schools with remain closed with the exception of the Panmure St Ann's service.
Nurseries
The following nurseries will be open on Thursday:
Cowgate Under 5's Centre
Tynecastle NS
Calderglen NS
Balgreen NS
Stanwell NS
Cameron House NS
St Leonard's NS
Other Council nurseries are closed.
Community Centres
The following City of Edinburgh Council community centres will be closed:
Ratho
Roseberry Hall
Inch
Jack Kane
Bingham
Castleview
Magdalene Rannoch
Kirkliston
Norwood Wing
Craigmount Wing
Juniper Green
All other Council community centres will be open.  Day and evening adult education classes are cancelled for the rest of the week.
Other Children & Families services
All Child and Family centres will be open with a reduced service. Please contact the centres direct for information.
Anyone looking to attend external events normally hosted in schools, e.g. councillor surgeries or community groups, should check if they are going ahead.