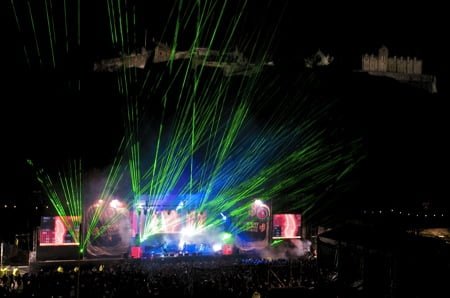 This has been a sobering year for The City of Edinburgh Council. They are faced with the necessity of  substantial spending cuts, which may yet lead to compulsory redundancy among their staff. They have, in past years, lost money on funding what has become a headline event in the nation's capital, Edinburgh's Hogmanay.
In the November Council Leader's Report,  Councillor Jenny Dawe admitted that:- "At a time when money is so tight, it is understandable that questions are asked about continued support for campaigns and events associated with festivals like Christmas and Hogmanay. However I remain totally committed to the concept of supporting our tourist, creative, transport and retail industries with major campaigns and events whilst recognising that all partner sneed to operate as efficiently as possible."
The City of Edinburgh Council Culture and Leisure Committee are responsible for overseeing Edinburgh's Hogmanay. In their latest report dated 16 November 2010 they claim that last year's Edinburgh's Hogmanay was a great success, and point out that the event won a National Outdoor Events Association award for delivering 'against all the odds' and presenting the best Edinburgh's Hogmanay programme to date.
Described as the original and best New Year's Party, Edinburgh's Hogmanay Street Party annually attracts tens of thousands of residents and visitors from around the globe. Taking place on 31 December along Princes Street in the centre of Scotland's capital, party-goers come together to sing, dance, hug, kiss and celebrate the New Year. But in recent times, adverse weather has been instrumental in the downturn in sales. This year about 20,000 fewer tickets appear to be on sale. The events company, Unique Events, is engaged to devise and deliver Edinburgh's Hogmanay through to Britain's Olympic Year 2012-13.
Featuring a selection of stages brimming with live music and entertainment, the iconic Midnight Fireworks display, singing and dancing all set against the magnificent backdrop of Edinburgh Castle, Edinburgh's Hogmanay Street Party is, for many, the place to see in the New Year in true Scots style. This year features four live music stages, giant screens and a spectacular midnight moment.
The Herald leads coverage of the most recent debate about Edinburgh's Hogmanay with a balanced and sensible article on the matter, and advocates that a route is found to retain Edinburgh's Hogmanay in the years to come – albeit not at the expense of the Council and the council taxpayers. A further article opens the dispute up even more as to who will pay, with quotes from Councillor Andrew Burns.
In their 9am Briefing The Edinburgh Evening News declared on 22nd November that the Hogmanay street party would be privatised. They cite unnamed council sources.
Last month, Brian Ferguson writing in The Scotsman announced that the Hogmanay bash would be 'scaled down' in common with other outdoor events around Scotland.
We explained here about the competition for an up and coming band to win a slot to support Biffy Clyro on stage at the street party.
Should you wish to attend Edinburgh's Hogmanay then you can get a ticket by the following methods:-
Tickets for Concert in the Gardens, Edinburgh's Hogmanay Street Party, The Keilidh and One Day Resolution Gardens, together with Registration details for the One O'Clock Run, Loony Dook and Torch reservations for the Torchlight Procession are available to purchase on a first come first served basis in the following ways:
Online: www.edinburghshogmanay.com
By phone: Edinburgh's Hogmanay Box Office: 0844 894 2011
In Person: Through associated ticket agents as follows: Tickets Scotland, 127 Rose Street, Edinburgh EH2 3DT Phone: +44 131 220 3234 Opening hours: 9am-6pm (until 8pm Thursdays). 11am-6pm Sundays
Ripping Records, 91 South Bridge, Edinburgh EH1 1HN Opening hours: 9am-6pm (12.30pm-5.30pm Saturdays)