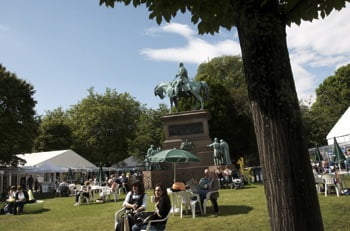 The various Festivals in Edinburgh continue to attract many visitors. The photo on the left is of the Book Festival in Charlotte Square.
Today The Edinburgh Chamber of Commerce is organising The Brand of the Future event at the Edinburgh International Marketing Festival. The event starts at 10.30 a.m. at The Assembly Hall on The Mound. More details here.
Billed as a quality business to business networking event The Small Business Club have organised a get together at The Royal Scots Club on 24th August.
6 Degrees of Networking are holding a Lunch in Leith on 26th August at Chop Chop.
Power and Energy Breakfast on 27th August at the Dakota South Queensferry is organised by Thrive for Business.
Not to be confused with the Chamber of Commerce – JCI Edinburgh are holding a networking event on 26th August 2010. Links 'n Drinks is being held at The Apex International in the Grassmarket – remember there are confusingly two hotels called the Apex in the Grassmarket – make sure you go to the right one!
If you want to get into Princes Street Gardens to get close to the music from The Scottish Chamber Orchestra then there will be some tickets on sale on 29th August. You have to go along to The Hub on Johnston Terrace in person at 10a.m. Further details here.
Greener Leith are off on their Bawsinch Bike Ride on the 28th of August. You could join them if you want. Go to their website and find out how.
Want to do the organic vegetable thing yourself? Then there is a whole day course at Old Dalkeith Road this Saturday. More details on FEDAGA's website.
Remember the Farmers' Market this Saturday from 9am till 2pm on Castle Terrace.
You might want to think about entering for the Forth Rail Bridge Abseil which takes place on 3rd October 2010. You can raise money for your own chosen charity but this link takes you to the Chest Heart and Stroke Scotland fundraising website.